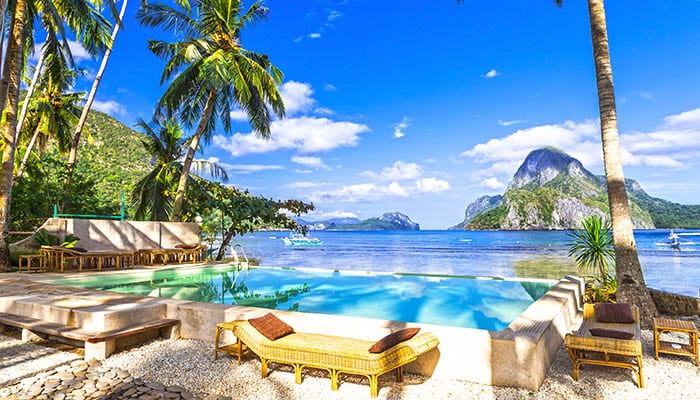 All the eager divers and snorkeling enthusiasts who come to Palawan for the coral reefs and lagoons of El Nido are likely to pass through the island's capital at Puerto Princesa first. This is the home of the big Puerto Princesa International Airport and the Port of Puerto Princesa, which both see daily arrivals from Cebu, Manila, and more by plane and boat.
You might want to linger a little in Puerto Princesa to check out the UNESCO Underground River or the glistening sands of Sabang Beach. Then, it's time to hit the road to cover the 161 miles of highway that leads north to the diving mecca of the Philippines. Here's a closer look at your various transport options and how to book…
Join the Adventure: Hop on a Shared Van from Puerto Princesa to El Nido!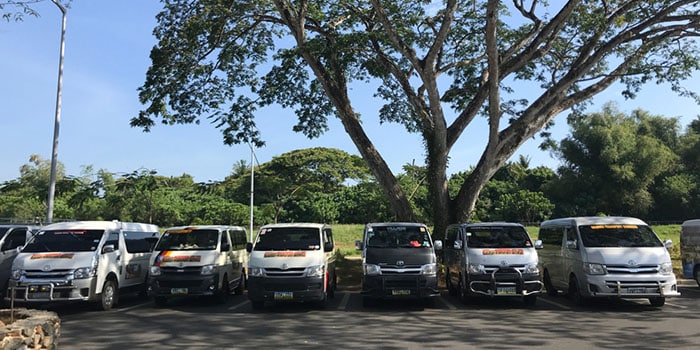 Time – 5.5-6 hours
Price – From $12 per person
Comfort – 4/5
The number of vans running between Puerto Princesa and El Nido each day is now firmly in the double figures. That is to say, you should never be short of a ride up to the scuba hub of Palawan – there's one leaving at least every hour starting at 5am and finishing up after 5.30pm. And it's not just the abundance of departures that makes it a great transport option. It's also the fact that it's both cheap – tickets cost about $12 per person – and takes roughly the same time as a private taxi – five or six hours in all.
Catch a Minivan Ride to El Nido from the Puerto Princesa Airport
Almost all of the vans depart right out of Puerto Princesa International Airport. Get through the baggage reclaim, leave the arrival hall, and viola: There they are all lined up on the far side of the parking lot. It can be a hectic place because there will be ticket touts vying to sell you transfers to El Nido and other destinations all over Palawan, which is why we usually recommend pre-booking online using 12GoAsia. That way there should be a rep waiting with your name as you emerge from the terminal. (It's also possible to get a pickup in Puerto Princesa town but bear in mind that these will likely be the same buses that started out at the airport, so they're often already packed with travelers.)
The majority of travelers who head El Nido way will look to the minivans, which leave from the airport and take about six hours in total.
The vans themselves are fairly comfortable rides. They're the classic minivan setup with 12 or 14 seats arranged in sets of twos and ones with a slightly narrower back row. They all have air conditioning, which is a gift when it comes to this multi-hour trip in the heart of the humid Philippines! The best-rated company running the route is Eulen Joy Express, closely followed by Lexxus Shuttle.
The journey will follow pretty much the only main road on the whole island of Palawan. It goes north from Puerto Princesa along the east coast until it hits Roxas. From there, it diverts into the mountains to weave and meander through a mosaic of jungled hills and palm plantations. The vans will typically make a bathroom and food break midway, lasting between 15-20 minutes. Be warned that some van drivers are notoriously gun-ho, taking fast corners and hardly using the brake pedal at all. That's just another reason to ensure you book with the higher-rated companies.
Ride in Style: Traveling to El Nido with the Comfortable Cherry Bus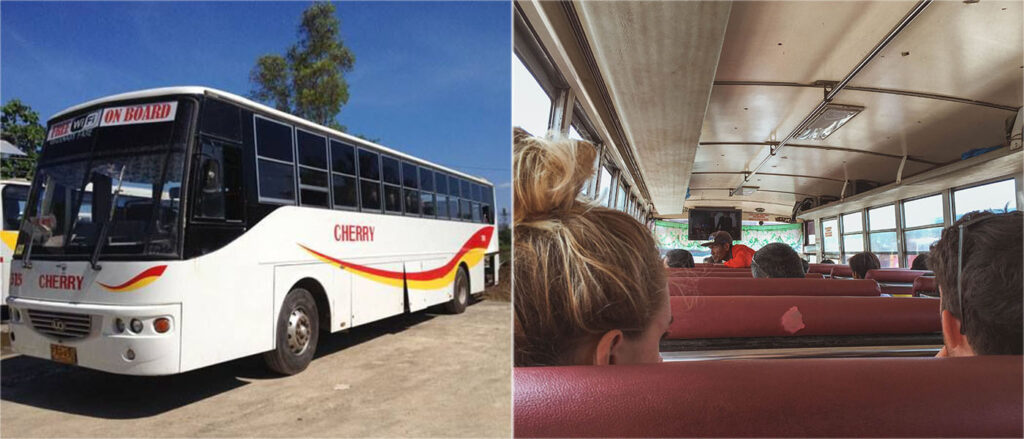 Time – Just under 7 hours
Price – $12+
Comfort – 3/5
A single company – Cherry Bus – still operates a public-style bus link between Puerto Princesa and El Nido three times per day. There's a good chance that this will be the cheapest of all the ways to travel on the route since tickets usually go for around just $12 each way. The buses leave from the station that's on the western outskirts of town on the Puerto Princesa South Road and connect to the terminal south of El Nido's center, near Corong Corong Beach. There's one early departure at 6.45am and then two more later in the day, including one that leaves at 9pm to drive during dark hours.
Cherry Bus runs three daily links up to the diving mecca at the northern end of Palawan, taking around seven hours and costing $12 per person.
The buses used aren't anything fancy, but we wouldn't say that they're overly uncomfortable. They have big, faux-leather, bench-style seating with lots of legroom. Two of them come with air conditioning, the Regular and Elite class. The "Economy Non AC" though has the windows fully open to let in lots of breezes, which will pick up as you leave the city and start winding around the mountain roads of central Palawan. The trip should take just under seven hours, including one or two refreshment stops along the way.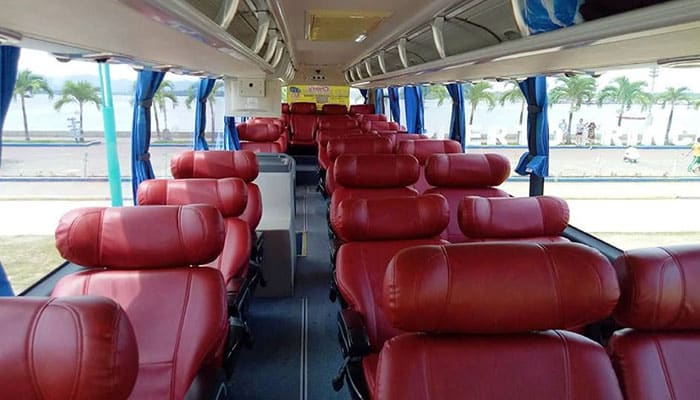 Because Cherry Bus departs from the town rather than the airport, they are a good choice for travelers already exploring Puerto Princesa itself. If you're fresh from the Underground River or the beaches of Honda Bay, then they're easy to catch. Simply hitch a tricycle over to the bus station, and you'll be on the main highway in no time. Schedules are often released late, so these sorts of bargain buses can only be booked up to one month in advance using 12GoAsia.
The Quickest Way to Get to El Nido is by Taxi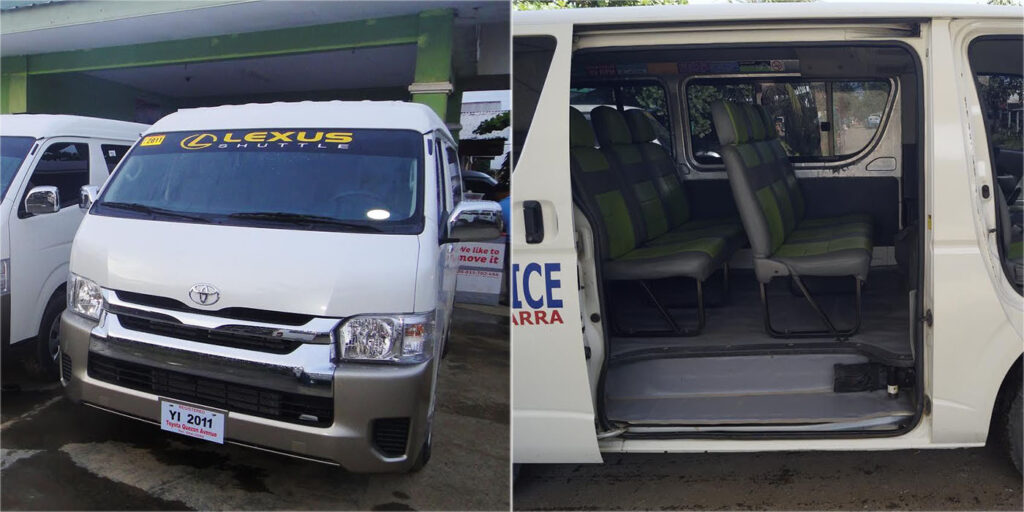 Time – 5.5 hours
Price – $119+
Comfort – 5/5
The comfier way to swap the subterranean rivers and the dolphin-swimming beaches of Puerto Princesa for the coral gardens of El Nido is by taxi. They're always available; drivers will cluster around downtown and by the airport ready to take you up north. They push a hard bargain, so it's a good idea to pre-book transfers to guarantee that set rate. 12GoAsia can help with that. Just head there and enter your dates of travel to compare all the various taxi providers and their quoted prices.
Talking of the quoted prices…it's normal to pay just over $110 for a taxi. That gets you the entire vehicle, which is important to remember because that means you can lower the cost to around just $25 per person if you manage to get four others. It's also possible to rent a whole minivan with a driver for around the $120 mark, which means you can cut costs to as low as $10 each if you have a dozen folks in your travel crew.
A taxi from Puerto Princesa to El Nido might set you back over $100, but that can be shared between everyone you're traveling with, plus there are other bonuses…
Because the taxis have to take the exact same northbound road through Roxas and the top half of Palawan as the minivans, there's not much of a chance that this pricier way of going will be any quicker. But we actually think there's something to be said for taking longer over your trip anyhow. You see, one of the bonuses of a dedicated driver is that you can ask them to stop whenever and wherever you like, provided you've agreed on a rate that includes all those breaks beforehand. Draws en route here might include the Kawa Falls or even the UNESCO-tagged Subterranean River National Park (a real highlight of the region). 
Another bonus is that taxis are a cut above the vans on the comfort front. This will be a car for just you and your travel pals. That means extra legroom, the ability to ask for toilet breaks whenever needed, and power over the air conditioning, so you can set it as you please. From experience, taxi drivers in Palawan also tend to take just a little more care on the road than the minivan pilots.
---
El Nido remains the top draw of Palawan. Island hopping trips through turquoise lagoons, snorkeling in coral reefs filled with brain sponges and Nemo fish, and party nights on white-sand beaches are all part of the parcel up there. It's easy to see why you might want to go.
The good news is that there are now countless minivan and taxi options from both Puerto Princesa town and the local airport. It takes around five or six hours before they arrive at the scuba hub on the Sulu Sea.
---
How useful was this post?
Click on a star to rate it!
Average rating / 5. Vote count: