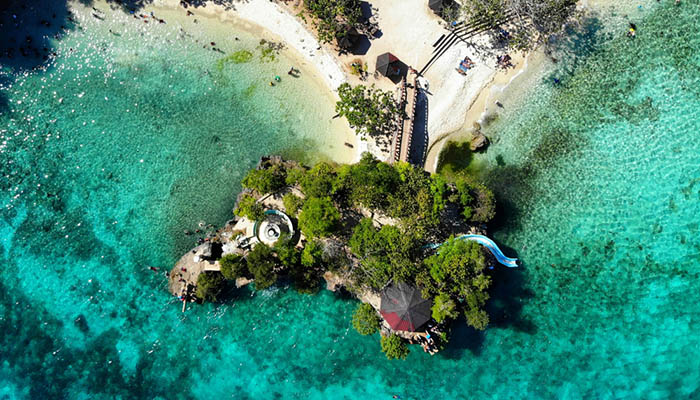 Book yourself a well-earned R&R session on the island of Siquijor, a place that's fast becoming the hammock and cocktail haven of the Central Visayas. From the aquamarine waters of Tubod Beach to the softly sloping sands of Paliton Beach, this is a world of perfect shores with bath-warm seas. Then you delve into the backcountry to find idyllic waterfalls and cave systems – keep those for when the adventure is a-calling.
This guide outlines how to get to Siquijor from the region's transport and aviation hub, Cebu. It's only 17 miles away at the closest point, but you're probably looking at indirect ferries or even boat and flight combos. Let's get planning…
Cebu to Siquijor by Indirect Ferry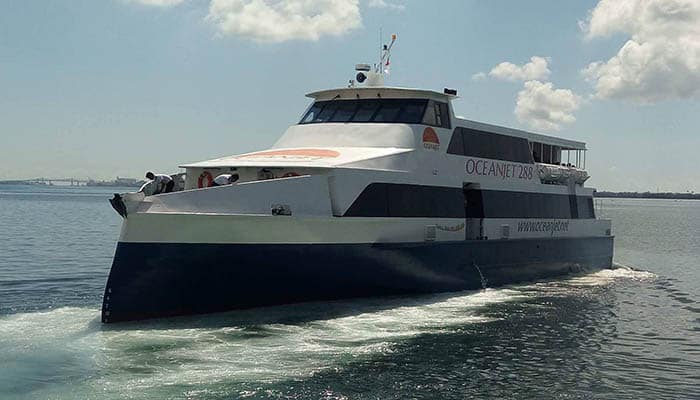 Time – 6 hours+
Price – $30+
Comfort – 4/5
There's a fairly decent network of boats linking up the whole of the Central Visayas region. That means it's usually possible to get from one island to the next in a single day, so long as you're willing to make a changeover in at least one port along the way. There are two main options when it comes to indirect ferries from Cebu to Siquijor. You could go via the famous home of the Chocolate Hills in Bohol. Or, you could go via the port city of Dumaguete on the island of Negros. We firmly recommend the former. Here's why…
There are something like 20 boats per day from Cebu to Bohol. You'll be looking for the most frequent ones that get into Tagbilaran Pier. They take just two hours in all, offer a pretty scenic ride, and arrive straight into Bohol's main ferry interchange. What's more, without delays the earliest boats of the day will finish this leg of the trip before 8am, making it possible to connect with the onward boats to Siquijor. In fact, they should make it possible to connect with even the earliest boats to Siquijor run by Apekoptravel, which leave at 10am from Tagbilaran and get you in at midday.
Indirect ferries connect to Siquijor through the Cebu Strait via both Bohol and Negros, with one standout winner when it comes to ease of travel.
You don't have to rush your breakfast if you don't want to, either. There are ferries from Cebu Pier 1 scheduled to arrive in Bohol at 10am, 12.40pm, and 2.45pm. Those should all be fine for hopping aboard the later Oceanjet connection departing Tagbilaran at 3.20pm. That takes 1h40 and arrives at Siquijor Pier on the northern side of the island in time for dinner.
The downside of the route via Dumaguete is that you'll probably have to spend a whole day in transit. That's because the boats that arrive there from Cebu won't get you in early enough to link up with the 7.20am Oceanjet ferry across to Siquijor. We'd really only recommend going that way if you wanted to spend some days on Negros island, perhaps hitting the world-class snorkeling lagoons of Apo Island or enjoying the workaday buzz of Dumaguete Boulevard. Whichever route you choose, it's a good idea to pre-book all your connections ahead of time using 12GoAsia so you know what pier you need to be at and when.
Cebu to Siquijor by Flight and Ferry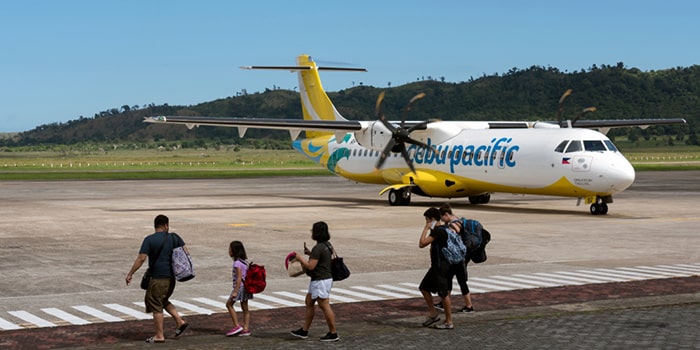 Time – 24 hours in total travel time
Price – Around $35 for transport only
Comfort – 4/5
Because of the complexities of connecting the various ferries and long-distance bus routes on the road between Cebu and Siquijor, we still recommend the plane-boat combo as one of the top options, especially if you're starting your journey in Cebu City. There are two flights a day that can whisk you straight over the Cebu Strait to the city of Dumaguete on the neighboring island of Negros. From there, it should be relatively easy to link up with the regular boats that cross to Siquijor. Let's take a closer look…
For the first leg, the airline to book with is Cebgo. They operate two connections to Dumaguete each day, the first of which departs around 2.20pm and the second of which leaves at 7.20pm. All flights go from the huge Mactan-Cebu International Airport (CEB). It's not actually located on Cebu itself but on the next-door island of Matcan (hence the name), though there are regular MyBus transfers from Cebu City to the terminals that cost just $1 each way. Arrivals will be at bijou Dumaguete–Sibulan Airport just north of the center of Dumaguete town.
Flying is the faster way to leave behind the hubbub of Cebu City for one of the regional ports that have direct ferry departures to Siquijor.
Sadly, because the flights leave Cebu so late, there's zero chance you'll be able to link up with the daily ferry that goes to Siquijor straight out of the airport. In fact, there's not likely to be a departure until just after 7am the following morning. Our advice? Grab yourself a hotel and enjoy what's on offer in this off-the-beaten-track regional city – a photo stop at the 18th-century Campanario de Dumaguete tower and a walk along the Rizal Promenade are both musts!
Price-wise, there's a good chance you'll be pleasantly surprised at how much airfare are here. Tickets to Dumaguete can be had for a mere $25 each, though that doesn't include checked baggage or reserved seats with extra legroom. Then you have to add on the cost of the ferry link, which is usually less than $10 for the basic Tourist Class. Nice.
Cebu to Siquijor by Bus and Ferry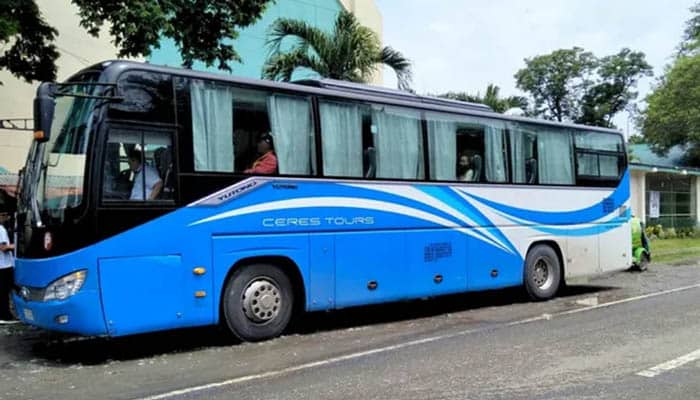 Time – 7-8 hours
Price – $8
Comfort – 2/5
A lot of travelers will balk at the prospect of making a five-hour overland coach trip simply to connect with a ferry when there are indirect boats on offer straight out of the main ports in Cebu City. But not everyone will be beginning their journey in Cebu City, and some will find that the southerly pier at Liloan is actually a superior place to cross to Siquijor from. If that's you, read on…
A bus-boat combo can take you to Siquijor, though it relies on a non-commercial cargo boat link from Liloan Port.
Regular coaches run by Ceres Bus go from the big South Bus Terminal in Cebu City all the way to Liloan Port on the far south side of the island. The buses take roughly five hours and leave almost every single hour of the day starting at midnight. You're looking for services bound for Bato. The good news is that they can be picked up at a whole range of spots along the route, so are a good option if you're already in the whale-shark haven of Oslob or the snorkeling and diving hub of Moalboal.
You'll need to time your trip to reach the pier by 10am, and about an hour before that in order to secure tickets (these ones can't be booked online). At any rate, 10am is when the boats are scheduled to go. It's not your usual commercial ferry but rather a cargo ship with room for some passengers. Don't expect the same level of comfort you'd get on a tourist boat – there are no plush cabin spaces with air conditioning. The crossing is slow, taking 2.5 hours. Arrival is in Larena on the north coast of Siquijor.
---
Cebu to Siquijor is a route from the most famous island in the Central Visayas region to a place that's got white-sand beaches and coral lagoons filled with rainbowfish and turtles.
Since there are no longer any direct flights between the two, you're probably looking at hopping ferries, but there is also one travel option that could see you take to the skies to get to the port town of Dumaguete before linking up with the boats from there.
---
How useful was this post?
Click on a star to rate it!
Average rating / 5. Vote count: