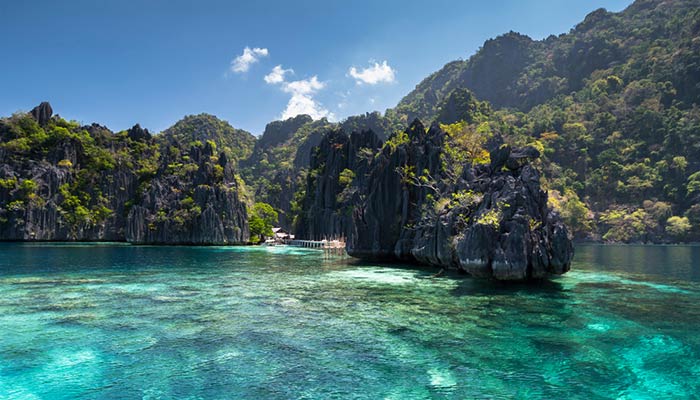 There's nothing worse than the feeling of missing out. So, if you make it all the way to El Nido in Palawan, don't hesitate to make the extra hop, skip, and a jump to a small island that's teeming with hidden beauty, otherwise known as Coron.
It's not the small villages and towns that bring visitors here, but what rises above the water – majestic karsts and cascading waterfalls – and beneath the seas – an underwater maze of WWII shipwrecks. Coron may be 75 miles north of El Nido, but its surprisingly easy to get to. It doesn't matter whether you opt for the fast boat, slow ferry or short flight, you shouldn't need to set aside more than half a day for the journey.
Here's everything you need to know about getting from El Nido to Coron.
El Nido to Coron by fast boat

Time – 3 to 4 hours
Cost – $37
Comfort – 4/5
Comprising of more than 7,000 islands, a third of which are inhabited, traveling by boat is the norm in the Philippines. With a long crossing like this one, comfort and speed are two key ingredients, and that's where the handy fast boats come in. Boasting air conditioning, cushioned seats, and a plasma TV for a bit of light entertainment, your boat journey should go by in a flash. As the most popular option, however, it's also the most expensive, setting each person back around $37 for a one-way journey.
Remember to book your ferry tickets at least three days in advance during peak season, to guarantee a smooth crossing to Coron.
Three companies run the route once a day; Jomalia Shipping, Montenegro Lines, and Phimal. There's little difference between the three companies except for departure times and the fact that Phimal's boat journey takes 30 minutes longer and will charge you $2 less for the inconvenience. Departure times vary from day to day, but you can find all of the most up-to-date information on 12Go, where you can also secure your ticket in advance. Booking at least two or three days before your trip is particularly important during high season (December to April) when seats on the fast boats can sell out very quickly.
All of the fast boats leave from El Nido Ferry Terminal, which sits just under a mile from the center of town. It's less than a ten-minute walk from most central locations, but if you've packed a little too indulgently, a local tuk-tuk will happily take you there for a fair price.
El Nido to Coron by slow boat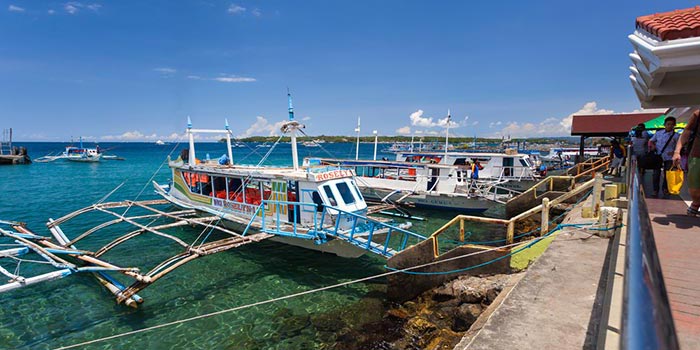 Time – 6 to 9 hours, weather dependant
Price – $27 including lunch
Comfort – 2/5
Slow boats, otherwise known as 'bangkas' to locals, are the cheapest way to cross the waters from El Nido to Coron, but also the longest and perhaps most uncomfortable. We'll paint a picture, so you know exactly what you're getting yourself into. Simply put, bangkas are longboats, made out of wood, that usually seat around 80 people, sometimes less during low season. Once you've made your way onto the boat, you can choose from either plastic benches that line up in rows down the middle of the boat or padded wooden benches along the sides. A third option is to indulge in a bit of extra sunbathing on the roof – you don't need to worry about falling off at the pace these boats are going. Around halfway through the journey, passengers are treated to a simple hot meal, usually chicken, rice, and a few vegetables.
Take the time to appreciate the scenery on the slow boat – the cheapest way to get from El Nido to Coron.
It's easy enough to get tickets from one of the two companies (Bunso and MBCA Jessabel) and compare their departure times using the travel website 12Go.asia. Both boats leave from the El Nido Ferry Terminal, which is an easy walk or tuk-tuk ride from town.
While this is the cheapest journey from El Nido to Coron, it is also the most unreliable. It's not unusual for boats to break down or to go off course due to strong winds., which can make for a bumpy ride. For this reason, any travelers who suffer from seasickness should come prepared or choose alternative methods of transport.
El Nido to Coron by flight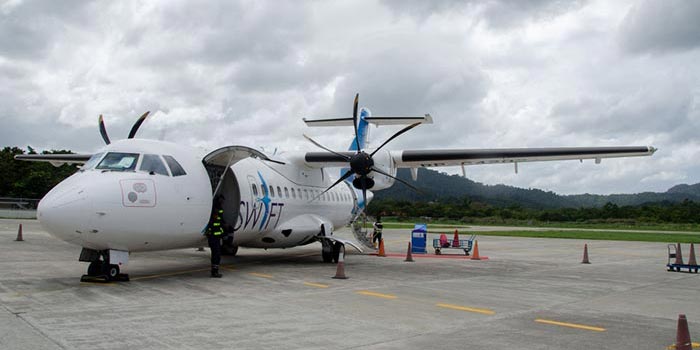 Time – 40 minutes
Price – $64
Comfort – 5/5
Island-hoppers who are short on time can revel in the fact that AirSWIFT runs four or five direct flights a week from El Nido Airport to the Francisco B Reyes Airport in Coron. It may be one of the most expensive ways to get there, but with transfers included, you could be settling into your next hotel in just a few hours.
Usually, flights run every Monday, Wednesday, Friday, Sunday, and the occasional Saturday. Still, it's worth checking out your travel dates on 12Go for exact travel times, as flights can change with demand. It's also worth taking into account that travel routes can be interrupted due to changes in weather, especially during the rainy season that lasts from June to October.
A direct flight from El Nido to Coron is the quickest way to travel between the islands.
Getting to the airport from El Nido town is simple as its only 3 miles from the city center. Sporadic public buses run this way out of town, but the easiest option is to book a private tuk-tuk or taxi through your hotel. This will cost you anything between $10 and $15, depending on your negotiation skills.
Once you touch down in Coron, there are numerous ways to get to your chosen accommodation. Outside of the arrivals lounge, minivans wait to take you to Coron Town for a fixed price of 150 pesos $7. Alternatively, ask your hotel to arrange a driver to pick you up and take you from door to door.
El Nido to Coron by island-hopping tour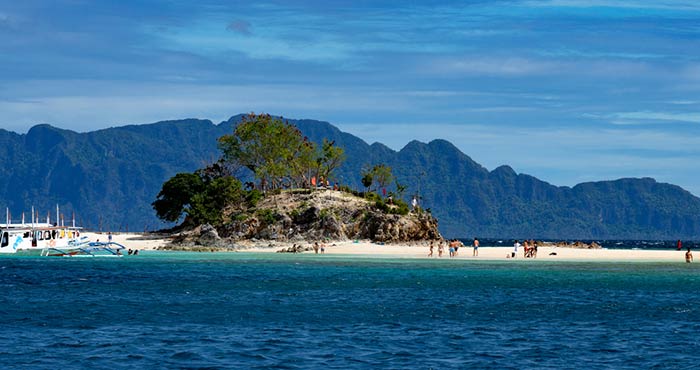 Time – 1 to 5 days
Price – $50 to $400
Comfort – 4/5
If you've got the time, and some spare money in your budget, there are heaps of beautiful sites to see between El Nido and Coron. So much so, that lots of people choose to combine their transfer between the two islands with a tour to some of the untouched and lesser-traveled islands that sit in between. Whether you want to squeeze a few islands into a day tour or spend some nights camping on secluded beaches, it's the perfect way to get off-the-beaten-track in the Philippines.
There are plenty of companies offering tours around this northern archipelago of Palawan, and itineraries tend to be similar: setting up camp on the stunning Linapacan Islands, snorkeling off Culion's spectacular sandbars, and finally disembarking in Coron. TAO Philippines, El Nido Paradise, and Layag Philippines all come highly rated as tour operators. Most tours involve camping in places where you'll be the only ones on the beach, and toilet facilities will be non-existent, so be prepared to get back to basics!
El Nido to Coron by private charter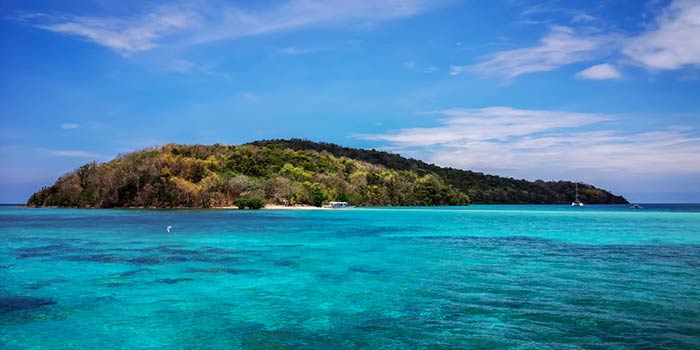 Time – All day
Price – $150 – $200
Comfort – 5/5
Chartering your own boat from El Nido to Coron is by far the most convenient way to transfer between the islands, but it's also the most costly. Rates change depending on the season but will usually cost upwards of $150. If you're part of a large group, this can sometimes work out more cost-effective than buying your tickets on one of the public crossings.
While it's hard to pinpoint any exact companies offering private crossings, your hotel should be able to help you to arrange one for a reasonable price. If not, it's easy enough to pop into one of the large tour companies such as TAO Philippines or El Nido Paradise, who will happily arrange a boat for you too. If you want to test your negotiation skills and secure the lowest prices, you can even head to the ferry terminal early in the morning to try and negotiate a price with a local boatman. To make the most out of your hire, it's worth including a few stops along the way, to the Linapacan or Culion Islands.
Whether you're sailing the high seas or jumping on a plane to reach the spectacular island of Coron, we hope this guide has made getting there a little easier.
---
El Nido to Coron FAQ
What is the cheapest way to get from El Nido to Coron?
If you're not short on time, the cheapest way to get from El Nido to Coron is by slow boat. It'll take between six and nine hours and cost around $27, including a small lunch. During peak season, tickets sell out fast, so don't forget to secure your tickets in advance on handy sites like 12Go.asia.
What is the fastest way to get from El Nido to Coron?
Jumping on a plane is undoubtedly the fastest way to transfer between the islands, but it will cost more than double the cost of a boat. You can book direct flights from El Nido through 12Go, which will get you to Coron in under an hour.
How do you get from El Nido to Coron?
There are plenty of options for getting from El Nido to Coron: a cheaper and slower boat, a faster and more expensive boat, a private charter, or a super speedy direct flight. 12Go is a useful tool for comparing all of the different methods of transport and working out which one's best for your travel style and budget.
How long is the ferry from El Nido to Coron?
The slow boat from El Nido to Coron takes between six to nine hours, though you should be prepared for longer journeys during bad weather. For a quicker transfer, that takes between three to four hours, you'll need to book a ticket on the fast boat. It's easy enough to book tickets for either journey on 12Go.asia.
How much is the ferry from El Nido to Coron?
Ferry tickets between El Nido and Coron range from $27 to $37, but the exact price of your boat on a specific date can be found on 12Go.asia. Slow boats tend to be cheaper and include a small lunch, whereas fast boats are more expensive but offer air-conditioned rooms and cushioned seats.
Which is the best, El Nido or Coron?
El Nido and Coron offer visitors very different experiences. Attached to the main island of Palawan, El Nido is the easiest of the two to access and offers the widest range of beautiful beaches to explore. For this reason, it's also the busiest of the two. If you're after quieter beaches, untouched landscapes, and some of the best SCUBA diving sites in the country, it's worth making the extra effort to cross over to Coron.
How useful was this post?
Click on a star to rate it!
Average rating / 5. Vote count: