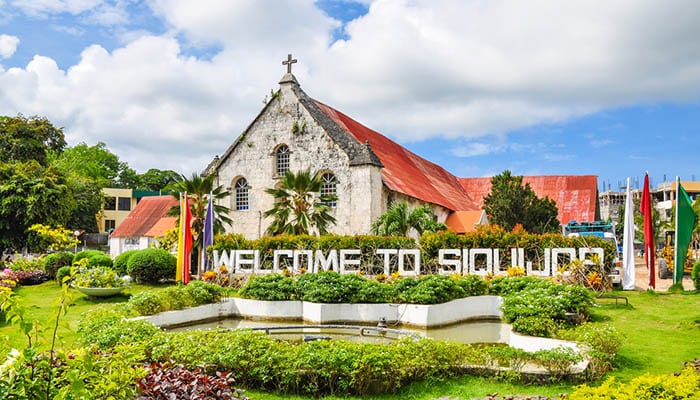 Bohol has long drawn the spotlight with its amazing Chocolate Hills, cascading Cambuyo Rice Terraces, wild riverways, and tarsier conservation forests.
But there's also plenty to be said for Siquijor. It remains a more off-the-beaten-track Philippine island, set just 22 miles to the southwest of Bohol's capital in Tagbilaran City. Come here to wander the trails to the turquoise waters of the Cambugahay Falls, see mystical Balete trees, and enjoy talcum-white beaches backed by luxury hotels. Sounds good? Let's see how you can make the trip…
Bohol to Siquijor by Direct Ferry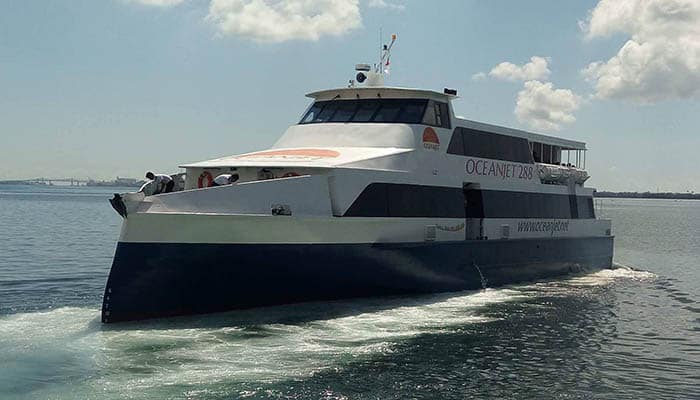 Time – 1h40
Price – From $17 per person
Comfort – 4/5
Perhaps a little unusual for the Philippines, where you often have to combine changeovers at various ports and overland trips to get from A to B, the islands of Bohol and Siquijor are linked by a direct ferry. That means you can trade the undulating peaks and troughs of the Chocolate Hills for the azure waters of the Cambugahay Falls in just 1h40 minutes.
Since there's just a single departure each day, it can get busy during the peak vacation season (November-April). Be sure to book and secure your tickets in advance for this route using a service like 12GoAsia.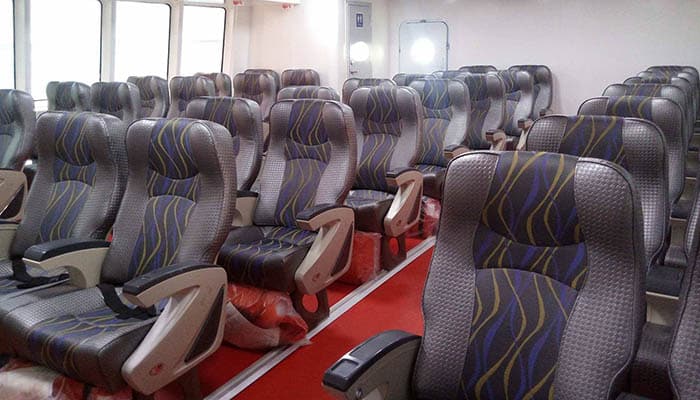 There's only one company operating these nonstop boat links: Oceanjet. They have a surprisingly modern fleet of large-hulled ships that offer two tiers of classes. The cheapest is known as Tourist Class. Choose that and you'll pay around $17 per person, each way. It's pretty great value for money if you ask us, complete with both air-conditioned indoor cabins and half-covered outdoor spaces, airline-style seats, and plenty of windows for watching the jungle-fringed isles of the Central Visayas whizz by. Then there's the Business Class option, which costs roughly $25 per person, each way, but has much larger seats that are fully upholstered, and even entertainment TVs to keep you busy as you travel.
The direct ferry makes planning the trip from Bohol to Siquijor a much simpler process – hop on board, and you'll be cruising into the docks of your next Philippine island in a smidgen over 1.5 hours.
The departure point for the ferries between these two gorgeous islands is Tagbilaran Pier in southern Bohol. It's called Tagbilaran Pier because it's located smack dab in the heart of Tagbilaran City. Virtually all taxi drivers on the island will know about it because it's Bohol's main cruise and commercial port. Just over 1.5 hours later, you'll be arriving at Siquijor Pier, which is located on the northern side of the island near Siquijor town.
Getting into Siquijor Pier you shouldn't have to search too hard to find onward transfers to hotels or the fabled attractions of the local jungles and riverways. Taxi and tricycle drivers usually cluster towards the end of the jetty. Be sure to haggle hard there for the best rate, as this is the only portion of the trip that can't be booked online. As a general guide, expect to fork out around $4 for a ride down to the beach resorts of Lazi and about $5-6 for a transfer over to white-sand Talisay Beach on the east coast.
Bohol to Siquijor by Slow Ferry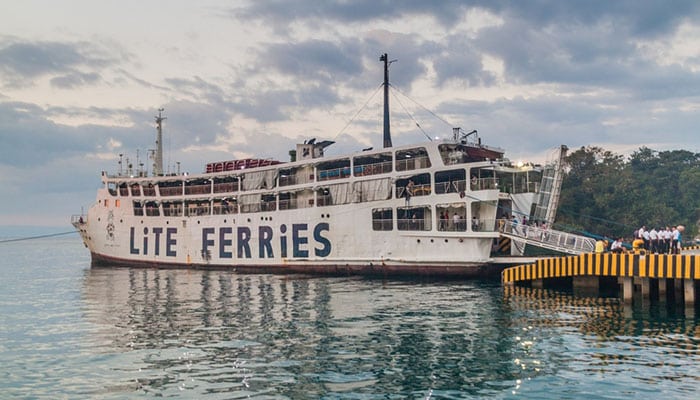 Time – 3 hours
Price – $15 each
Comfort – 3/5
There's another option on the menu when it comes to boating between Bohol and Siquijor: A slow ferry runs thrice weekly, on Mondays, Wednesdays, and Saturdays. It's operated by LITE Ferries, who double up as a cargo shipper and tourist transport company. They use large vessels with roomier deck areas and offer three comfort levels, though we wholeheartedly recommend you pick the highest Tourist Class, which should only set you back roughly $15 in all.
The trip on the LITE ships is slower. It takes three hours in total and arrives at Larena Pier on the northern shore of Siquijor. So, why take it over the fast boats? There are two main reasons. Firstly, the slow boats offer the sole late departure time, leaving Bohol at 8pm. Secondly, the big ships tend to be a lot less prone to wobbling out at sea and aren't as badly affected by ocean swells, so it's a good way to travel if you're prone to sea sickness.
Bohol to Siquijor by Indirect Ferries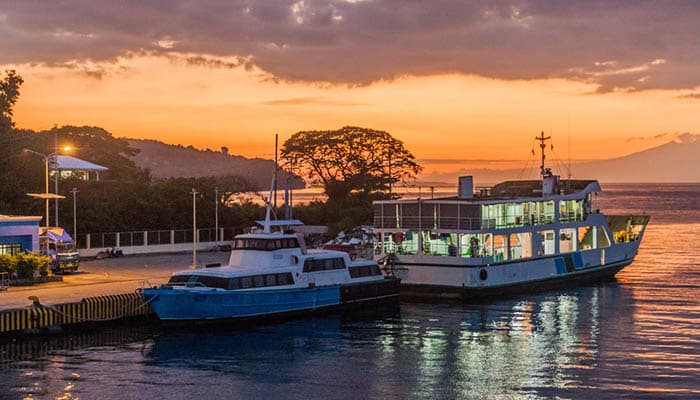 Time – 6 hours minimum
Price – $40+
Comfort – 3/5
Why would anyone opt for multiple ferry connections on a route which has direct boats in the offing? The answer: Adventure. There's a chance that you can put together your own private odyssey through the wonderful archipelago of the Central Visayas here. You could potentially complete the trip in six hours if you managed to match up the boat departures, but we'd probably recommend taking at least three or four days over it – there are loads to see!
The daily ferry links that run between many of the islands in the Central Visayas mean there's no reason you can't turn this trip into a bit of an adventure. 
You'll basically be relying on the relatively comprehensive island-to-island ferry network that's run by Oceanjet. The obvious route to take would be south from Bohol's Tagbilaran Pier to Dumaguete, where you can wander at colonial-era forts and make detours for snorkeling on Apu Island. It takes just two hours at sea to get there and then there's a daily onward connection to Siquijor at 7.30am. To add even more fun, consider taking the boat north to Cebu City out of Tubigon Port. That opens up the turtle reefs of Moalboal and the Instagram-famous Kawasan Falls, though you'll need to travel to Dumaguete before connecting with boats that finish at Siquijor. 
The whole point here is that you turn that A-to-B trip from Bohol to Siquijor into a bit more of an island-hopping whistlestop tour. That will inevitably crank up the cost quite a bit. Not only will you need to drop at least $40 on connecting ferries, and probably more than that, but you've also got to secure accommodation on the islands you choose to visit along the way. 
Bohol to Siquijor by Tour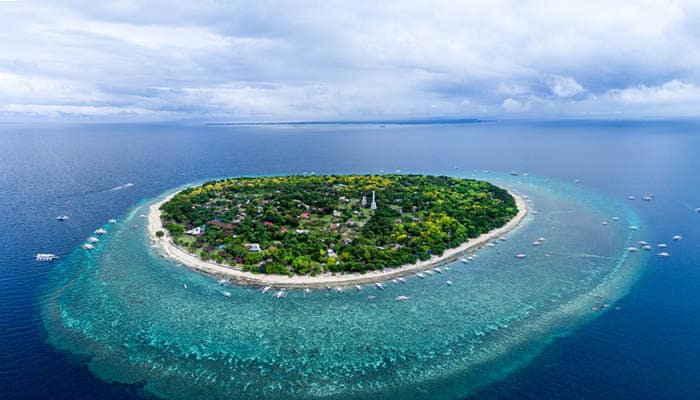 Time – Half a day or all day
Price – $50+
Comfort – 4/5
The main port town and vacation area of Panglao on Bohol's southwestern shoreline is a hubbub of tour providers. There's naturally an overload offering trekking in the Chocolate Hills (the island's main attraction) but also some that focus on the draws that speckle the Sulu Sea to the south. Those include Balicasag Island and Pamilacan Island, both of which are white-sanded paradises with ample dolphin watching. You can also get some tours that include explorations on Siquijor, though they're likely to be the more expensive ones since it's a bit further away.
The thing to remember here is that a tour option isn't the best if all you want is transport to Siquijor. They're usually a bit more organized than that, with designated stop-offs at key beaches and coves, and then a return to the docks in Panglao come the evening. What they're great for is if you're basing yourself in Bohol and want to check Siquijor off the bucket list without actually having to move hotel or drag your bags aboard a public ferry. 
---
The island of Siquijor sits just over 20 miles south of the ever-popular Bohol. To get there, you can whizz straight over the glistening waters of the Sulu Sea in the company of dolphins and whale sharks.
Or, you could turn your trip into an adventure, adding in stops on some of the most famous isles in the Central Visayas region – think turtle-swimming Cebu and the snorkeling mecca of Pamilacan.
---
How useful was this post?
Click on a star to rate it!
Average rating / 5. Vote count: