Manila and Coron paint two completely pictures of the Philippines – which isn't surprising considering they're around 280 miles apart. In Manila, colonial architecture sits next to modern skyscrapers, the streets are busy with people, and the traffic rules the pace of the city. Over in Coron, life is slow. Surrounded by turquoise waters and snorkeling spots, and home to sweeping beaches and impressive karsts, this secluded spot is one of the most peaceful places in the country.
Transport between Manila and Coron is either by a quick, but expensive flight, or a slow, but much more affordable ferry. Which you choose is entirely up to you, but we're here to help you do it.
Manila to Coron by flight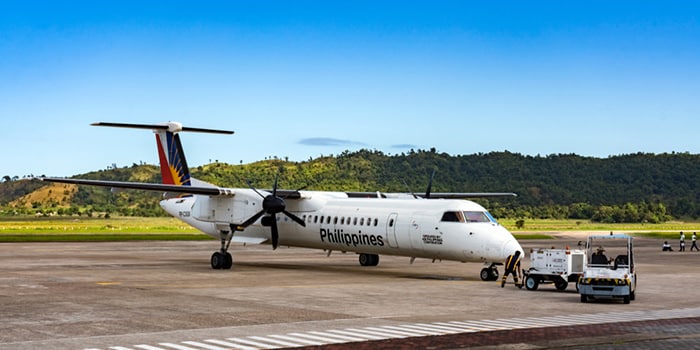 Time – 1 to 2 hours
Price – $60 – $200 depending on the season
Comfort – 5/5
Chances are, most travelers heading to the Philippines won't have endless time to spend hopping between the idyllic islands. And, while locals generally use boats to get around, there is a well-developed domestic flight network within the country, which cuts travel time considerably.
You could be exploring the colorful coral reefs of Coron within just a few hours of leaving Manila when you take a domestic flight.
As the capital city, it's not hard to find flights from Manila to Coron. In fact, three different companies run the route several times a day; the boutique airline Sky Jet, the budget airline Cebu Pacific or the well-established Philippines Airlines. Ticket prices don't fluctuate too much between the three providers, but they do change with the season. Saying this, it's best to book in advance using the travel website 12Go.asia, which can help you to find a flight to suit your itinerary the best. Generally speaking, peak season runs between November and April, and brings the highest prices, while the shoulder months of October and May offer a few more bargains.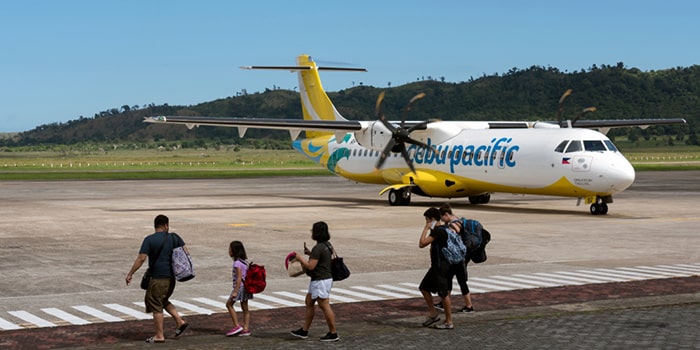 Flights leave from Ninoy Aquino International Airport in Manila, which is an easy 6 miles away from the city. This leaves you with several options for getting there, including a pre-arranged private taxi, GRAB taxi, public bus, or even the Light Rail Transit System. The LRT is the cheapest option and will cost just $1, whereas a private transfer can cost between $6-11 depending on the traffic. Remember to always leave plenty of time to get to the airport as gridlock is not uncommon in the capital city!
Once you touch down in Coron, you'll arrive at the Francisco B Reyes Airport, which is around 16 miles drive from the center of town. Either organize a taxi pick-up with your hotel or jump in a public minibus, which costs a standard 150 pesos, or $3, no matter where you want to be dropped off in Coron town.
Manila to Coron by ferry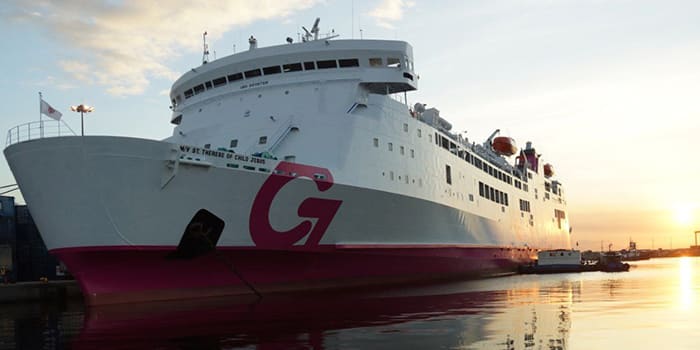 Time – 11 to 15 hours
Price – $20-50 depending on class type, company and when you book
Comfort – 3/5
If you're traveling on a budget and have a day to spare, the only other option for making the journey between Manila and Coron is by ferry. Covering the lengthy route between the two islands takes around 11 hours, is serviced by two different operators, and only runs during the night. Schedules and comfort levels on the two boats vary considerably, so check out 12Go to compare which one suits your plans best.
The most popular operator, with the most comfortable boat is 2GO. Their direct service leaves from Manila North Harbour Pier 4 every Friday evening at 7pm and arrives into Coron at 6am. Sleeping berths range from private, air-conditioned staterooms to open bunks with no air conditioning, both priced accordingly. There's also a restaurant onboard, but meals can be expensive, so consider bringing some snacks with you too. Perhaps the one downfall of this company is that it runs just one route a week, so you'll have to plan your itinerary accordingly, and make sure you book in advance.
Relax into the 11-hour ferry ride from Manila, that takes you past the stunning Calamian Islands and onto the secluded beaches of Coron.
If you don't mind getting back to basics and would appreciate a little more flexibility in your schedule, check out Atienza Ferry. More a cargo ship than a passenger ferry, this company offers cheaper rates (between $20-$25) on boats that run every Tuesday, Thursday, and Sunday. There's no choice of 'Tourist Class' on these boats. Accommodation is simple – a series of open bunk beds lined up in the top deck, only a few of which are air-conditioned. Atienza ferries are also slower and unpredictable, taking around 15hours to reach Coron, and sometimes longer. However, your ticket price does include two simple meals of meat and rice, and the experience of traveling like the locals can be more than worth it.
Choices may be limited in making the journey from Manila to Coron, but there are options for every type of traveler, whether you're watching your pennies or happy to splurge. Whichever adventure you decide to go for, we wish you a safe onwards journey!
---
Manila to Coron FAQ
What is the cheapest way to get from Manila to Coron?
Traveling between Manila and Coron doesn't have to involve an expensive flight! Ferries run the route several times a week and offer a cheap alternative. Atienza has the most competitive rates at around $20 for a basic bunk bed, but facilities are simple, and the journey takes a lot longer. If you've got an extra $10 to spare, you can book yourself a ticket on the modern 2Go ferries using 12Go.asia.
What is the fastest way to get from Manila to Coron?
You can book a quick flight from Manila to Coron using 12Go.asia that will have you from door to door in just a few hours. The flight itself takes around 90-minutes, not including transfer times.
How do you get from Manila to Coron?
Separated by the Calamian Islands and miles of open ocean, the only way to travel between Manila and Coron is by flight or ferry. While a plane will get you there quickly, it will cost at least double that of a ferry ticket. You can explore all of your options on your date of travel on 12Go.asia.
Can you fly to Coron from Manila?
Yes. Flights from Manila to Coron are operated by three companies, Cebu Airlines, Sky Jet, and Philippine Airlines. With several flights leaving Manila every single day, it's easy enough to find one to suit your schedule. Information and bookings for all three companies are available on 12Go.
How much is the ferry from Manila to Coron?
Prices for the ferry between Manila and Coron fluctuate depending on which season you decide to sail, which class of sleeper you choose, and which company you travel with. Basic bunks on an Atienza ferry can cost as little as $20. On the other end of the scale, you can get yourself a private and air-conditioned stateroom on one of 2Go's fleet for just under $50. Find out everything you need to know about catching the ferry and where to book tickets on out 12Go.
How long is the ferry from Manila to Coron?
The ferry between Manila and Coron can take between 11 and 14 hours, depending on which company you decide to travel with. Most traveler choose to travel with 2Go, which will cost a little more, but the ferry is just 11 hours. Atienza is cheaper but can take up to 14 hours to reach Coron.
How useful was this post?
Click on a star to rate it!
Average rating / 5. Vote count: