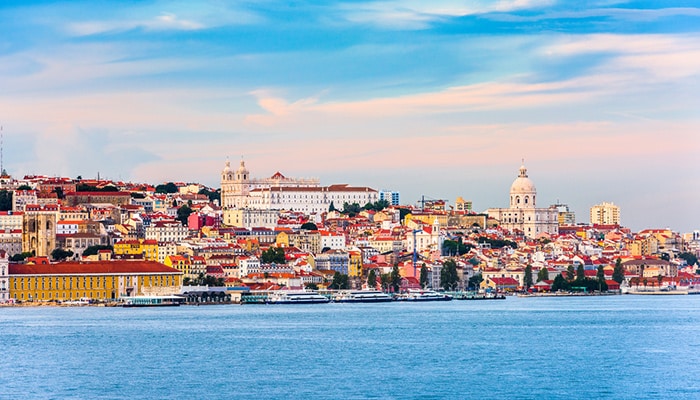 Once you're done soaking up the rays on the Algarve's award-winning beaches and tasting the fresh seafood of the south coast, you might want to plot a course north to the culture-rich, party-mad capital of Portugal. That's Lisbon, which lies some 218km away, beckoning with its grand Age of Exploration architecture and formidable Moorish castles.
This guide can help you plan the whole trip. It's got the lowdown on trains, cars and buses, offering insights into what's cheapest and what's fastest. Enjoy…
Faro to Lisbon by train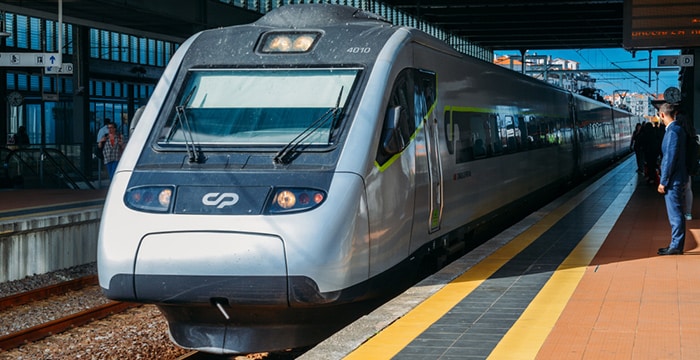 Time – 3-3.5 hours
Price – $12+
Comfort – 4/5
The bulk of travelers keen to escape the Algarve for the big city sights and miradors of Lisbon will take the train. It's nice and fast, very comfortable, and goes several times each day. It will also leave right from the heart of Faro – the platforms are located a short 12-minute walk from the cathedral, on the edge of the old town area. In addition to all that, you'll get to see some lovely swathes of Portuguese countryside along the way (but more on that later).
There are actually two different types of locomotives running the line. The first is the slightly faster Pendular model, which pushes to speeds of 125 miles per hour. They complete the whole A to B in a tad over three hours. Then you've got the IC trains, which take more like 3.5 hours. Inside, both are very similar, with two-two seating plans, open carriages, and climate control throughout.
Trains are the top choice for most travelers, offering a swift and easy ride north to Lisbon in less than 3.5 hours.
The course of the trip is roughly north to north-west. But first, you'll skirt the coast of the Algarve en route to the buzzy resort of Albufeira. It's normal for a bigger crowd to board there, because it's among the more popular destinations in the region. After that, you push inland, through green hills and olive forests to small towns like São Marcos da Serra. Then, you cross the winelands and low mountains of rustic Setúbal, and finally the Tagus estuary on the way into town.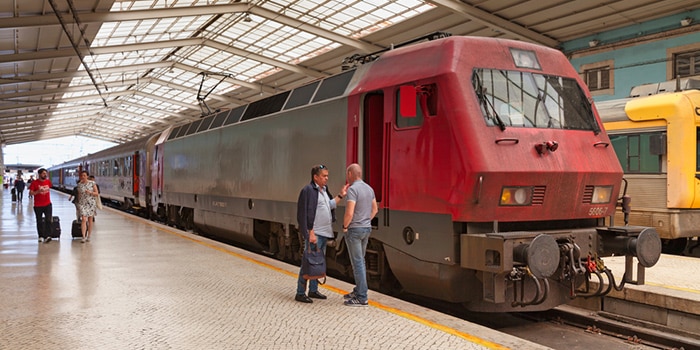 It's worth knowing that you can alight at stations in Sete Rios, Entrecampos, or Oriente in Lisbon itself. The first is good for connections with onward buses to the surf towns of Peniche and Ericeira. The second is better for accessing the historic old areas of the city. The third is best for reaching Lisbon Airport. Also try to book in advance using 12Go.co. Train tickets on this route can be as low as $12 in 2nd Class, but those deals will sell out fast.
Faro to Lisbon by plane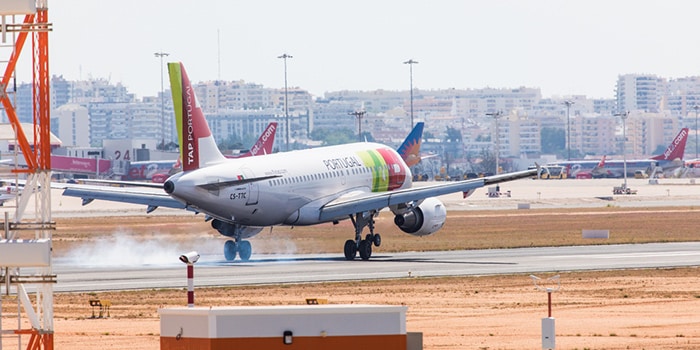 Time – 45 minutes (flight only)
Price – $80+ one way
Comfort – 4/5
Faro and Lisbon are so close together that flying almost seems overkill. However, it remains a strong contender for travelers averse to long train or bus journeys, or people wanting to hit the capital and connecting through Faro from other European destinations. There aren't many links, but you're looking at about three daily departures, spread from the early morning to the late evening, with one around midday.
The flight from Faro to Lisbon is a quick up and down with the country's flag-carrying airline TAP.
They are all run by Portugal's national flag carrier TAP. That means premium rates in line with a premium airline, which is why base fares hover around the $80 mark per person, each way. Also be warned that you'll need to push that by another 20 EUR (about $22) or so to upgrade to a Basic fare that includes checked baggage.
Flight times at 45 minutes per leg do look tempting, that's true. However, that's not the whole story if you're aiming to go from town centre to town centre. These trips require a transfer to Faro Airport on the one side and then back from Lisbon Airport on the other, not to mention security checks and whatnot. The upshot? The plane usually works out as a trip of between four and five hours, which makes it slower overall than the train!
Faro to Lisbon by bus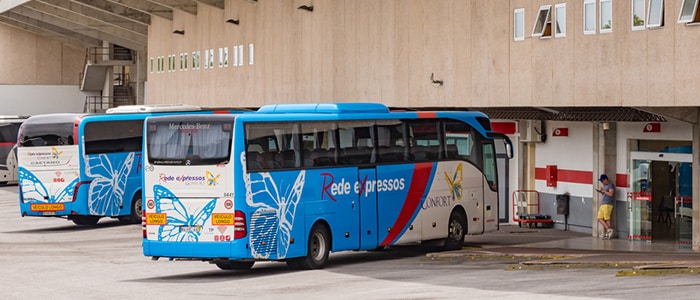 Time – 4-5 hours
Price – From $12
Comfort – 3/5
Buses also go between Faro and Lisbon on a regular basis, but there are often more on the menu during the popular summer months. You're looking at a journey that's slightly longer than the trains, but not by too much – something between four and five hours is normal. There's also a mix of direct buses and ones that will require a change in Albufeira, sat just a little west along the Algarve.
Buses are a good alternative to the train, with lots of daily links going from Faro and the Algarve up to Lisbon.
You'll be able to pick from a mix of operators, with names like EVA Transportes and Redes Expressos being the most popular of the bunch. They all leave from just outside the train station in Faro, a couple of minutes' walking down Avenida da República towards the centre of town. It's common to arrive in Lisbon at either Gare Oriente or Sete Rios Bus Station. The first is on the eastern edge of the capital, close to the airport. The second is to the north, a 15-minute taxi from the downtown.
Prices for the buses aren't always lower than the train, which is worth bearing in mind, especially if you're planning early and could be in line to score one of the reduced fares on the railways. Still, average costs for coach tickets go from $12-20, which makes them a reliable fallback option that's both moderately comfortable and relatively quick.
Faro to Lisbon by car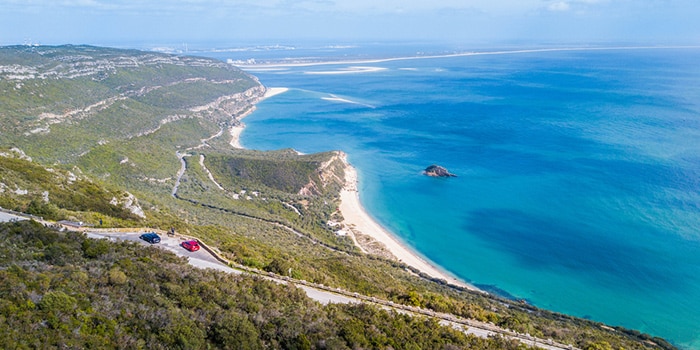 Time – 2.5 hours
Price – $15+ per day
Comfort – 5/5
There's a lot to be said for the driving option on this route. Perhaps most notably, it's the quickest way to transport yourself from the Algarve to the capital of the country. The roadways are well-kept and swift, so you could rumble out of Faro and be sitting on a plaza sipping a coffee in Lisbon just 2.5 hours later if you liked. On top of that, you'll have the comfort of your very own ride, with air conditioning and the freedom to stop wherever you want along the way.
A car is a tempting way to travel from Faro to Lisbon, what with golden beaches and surf breaks awaiting on the coastline between the two towns.
Talking about stopping along the way…that's not something you will want to overlook. Take some extra time to make this journey and you will be rewarded with some of Portugal's most stunning scenery and destinations. For example, a detour to the Atlantic Coast of the Algarve will only mean an hour's extra driving, but offers access to world-class bays like the surfer's haven of Praia da Amoreira or the sun-kissed beach town of Sines. Going the inland route is also a possibility, with pitstops in the cobbled streets of Beja or the gorges of the Vale do Guadiana both options in that direction.
To do all that, you'll probably need some extra days on the road. Thankfully, car hires in Portugal are some of the best-priced in all of Europe. They can be just $15 per day when you book in advance via a trusted provider like RentalCars.com. Just bear in mind that you will need to organise an inner-city drop off point if you don't want to go to Lisbon Airport at the end of your ride. Oh, and there might be an extra fee for traveling in just one direction.
---
Faro is a sun-splashed beach town with seafood eateries and bumping nightlife. Lisbon is the bucket-list capital of Portugal. They are both great – no, indispensable! – additions to any itinerary through the country, so be sure to start planning that trip today!
---
Faro to Lisbon FAQ
What is the cheapest way to get from Faro to Lisbon?
The cheapest mode of transport on the route from Faro to Lisbon is likely to be the coach. It can cost $12 or less, but might also increase in price if you book on the day. That's why we'd recommend comparing all fares over on 12Go.co prior to arriving in Portugal.
What is the fastest way to get from Faro to Lisbon?
Driving yourself is the fastest way to travel from the Algarve up to the Portuguese capital. It can take as little as 2.5 hours when traffic is normal. A hire car should also be a good bargain in this corner of Europe, with daily rates quoted on RentalCars.com dropping as low as $15, not including fuel or one-way journey fees.
What is the best way to travel from Faro to Lisbon?
The train trumps the lot if you're simply looking to go from A to B. It's fast and cheap when booked in advance using 12Go.co, offers nice views of the Portuguese countryside, and has comfy seats inside. However, those looking for a real adventure might prefer a car hire, which would let you drive the gorgeous coast roads looking for hidden surf spots and beaches along the Atlantic Ocean.
How much is a train ticket from Faro to Lisbon?
The early-bird fare is around a wallet-friendly $12 per person. However, that's only open to those who search and book well in advance using a service like 12Go.co. Later on, the cost of the very same seat might be double that. Worth knowing: It's usually possible to buy tickets on Portuguese railways at least 60 days prior to the day you travel.
How long is the train ride from Faro to Lisbon?
It's not long at all. You'll need 3-3.5 hours to complete the trip, with the fastest connections going with the Alfa Pendular trains that tilt on the line. To save even more time, you could book in advance using 12Go.co to skip the queue at the station and get the best bargains of all.
Is it better to fly from Faro to Lisbon or take the train?
The train – seriously! You won't need to mess around with check ins and bag drops. There are no transfers to the airports required. Oh, and that carbon footprint will be smaller. Finally, prices on the trains are virtually always lower than in the air.
How useful was this post?
Click on a star to rate it!
Average rating / 5. Vote count: