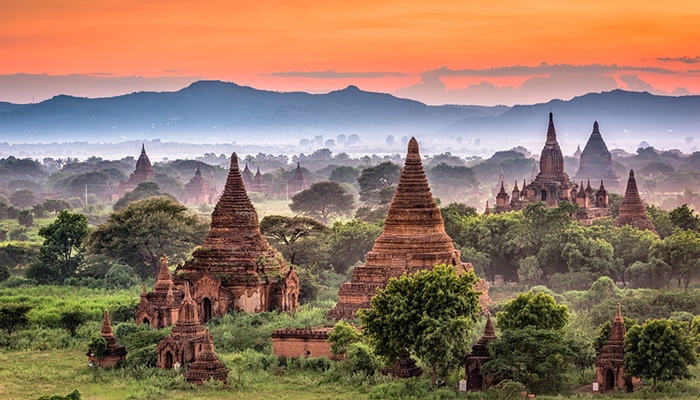 While Yangon is no longer the capital of Myanmar, it remains the largest city in the country, and is a popular starting point for many visitors. Also known as Rangoon, travelers flock to the city to take in its colonial architecture, which sits side by side with stunning, ancient Buddhist temples and pagodas, some of which are believed to be over 2,000 years old.
There's much to explore in Myanmar however, and one of the most popular choices is the breathtaking city of Bagan. Nestled in a curve of the mighty Ayeyarwady River, the city is famed for ever more ancient temples and pagodas, authentic Burmese cuisine, and a stunning backdrop. It's the ideal place to soak up the local culture and escape the more touristy attractions.
It's a long way from Yangon to Bagan, with around 390 miles between the two cities. However, sites comparable to Machu Picchu and Angkor Wat await, making it well worth the trek. Overland routes take in an array of bustling villages, humble countryside, and ancient wonders, whereas flying can massively reduce journey times. Here's what you need to know.
Yangon to Bagan by bus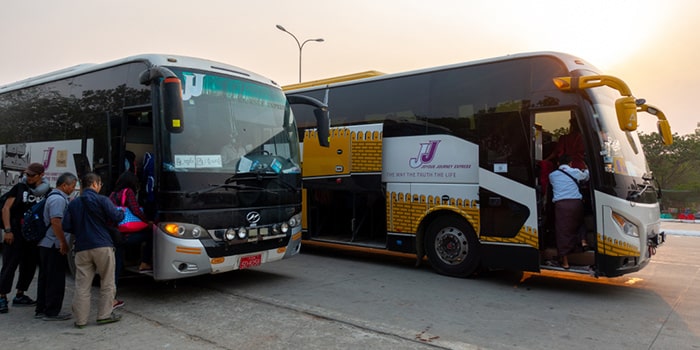 Time – 9 to 10 hours
Cost – tickets start at $12 but can go up to $23, depending on the bus company
Comfort – 4/5
There are four bus providers that will take you from Yangon to Bagan, including JJ Express and Bagan Min Tha. All buses provide amenities such as air conditioning, while VIP services include additional features such as snacks, movies, and an onboard steward. JJ Express runs a VIP service once daily; leaving at 20:00, it takes almost 10 hours to reach Bagan Shwe Pyi Highway Bus Terminal, and, at $23 per adult, it is also the high-end option.
If you're looking for a more flexible schedule, Bagan Min Tha is a good choice, with four buses per day: 8:00, 19:00, 20:00, and 21:00, and the latter arriving in Bagan Shwe Pyi in as little as 9 hours. Bagan Min Tha is also a cheaper option, at $12 if you buy in advance. E-tickets for these companies and more can be booked online at 12Go.asia. Other companies offer more services, most of which depart in the evening and travel through the night. There are 2 daytime buses however, departing at 07:30 and 08:00 respectively.
A night bus might be your best option since the road is quite long. However you'll miss out on some of the scenery.
Buses depart daily from the Highway Bus Station on Aung Mingalar Street, near the junction with Sa Gaing Street. The bus station is located 2.5 miles from the Wai Bar Gi Train Station and 13 miles from the Yangon Central Railway Station, and is best reached by taxi. It's good to bear in mind that the bus station is quite far from the city center, and getting there will be easier if you depart to Bagan with a night bus, in order to avoid most of the daytime traffic in the city.
The road from Yangon to Bagan is tarmacked, which means that the journey there will be fairly smooth and without too many bumps. There are no toilet facilities on the buses, however, there are two or three stops along the way, and the staff are accommodating. Day buses also include a half hour lunch break. It's worth noting that the AC is always on, and while this will be great during the day, you may find it rather cold on night buses. Blankets are provided, but it's best to bring warm clothes along.
Yangon to Bagan by plane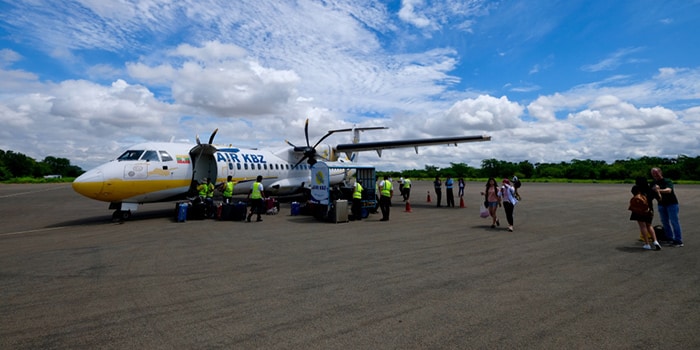 Time – 1.5 hours + transfers to and from airport
Price – $110-130
Comfort – 4/5
Given the fact that there's 390 miles between the two cities, the fastest way to get from Yangon to Bagan is by plane. The flight itself takes around 1 hour and 20 minutes, and there are several airline companies with departures throughout the day, such as Air KBZ and Air Thanlwin. However, with prices starting at $110, flights can be quite expensive. You can try booking them in advance, or check for deals during the off-season. Prices, availability, and ticket purchases for a variety of airlines can be found online at 12Go.
Yangon Airport is located 11 miles north of the train station, and the best way to get there is by taxi, as there are no public transport options that will take you all the way there. If you do decide to use public transport, look for buses heading to Sel Maing Kone or Maha Si, and from there, you can either walk the 1.5 miles to the terminal, or grab a taxi, which costs around $1.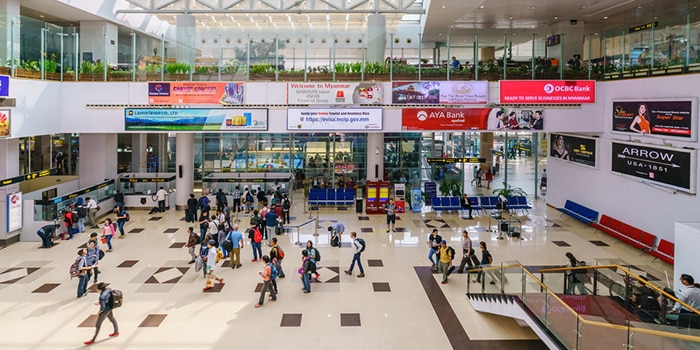 Flying is fast, comfortable, rarely delayed and saves you time that is better used to explore the hidden gems the ancient city has to offer.
It's best to take out some cash from the ATM or use the exchange offices in the Yangon Airport, as the Bagan airport in Nyaung U does not provide these services. Also, if you've booked accommodation with the top or mid-range hotels in Bagan, ask if they also provide transfer from the airport – the majority of them will provide this service for free.
Yangon to Bagan by train

Time – 17.5 hours
Price – $4-18
Comfort – 2/5 to 4/5 (depending on ticket type)
Although there's a direct railway line connecting Yangon and Bagan, getting there by train is the most time consuming option, with the trip lasting up to 17 hours. There is currently only one train route available, the daily train #61, which departs Yangon at 4pm and arrives at the Nyaung U station at 10am the following day. It has several carriages with varying classes, from the unpadded, wooden seats of the ordinary class, to the spacious sleeping cars.
The price for a train ticket is just as varied, ranging from $4 to $18, depending on the type of seat, as well as where you buy them from. Tickets are usually cheaper if you buy them directly from the train station, although it's best to book sleeping cars in advance at sites such as 12Go.asia, as they are often in short supply. It's also good to bear in mind that sleeping cars are not available during the off-season.
Taking the train is a great way to immerse yourself in the Burmese culture, whether it's by interacting with the local passengers, or simply enjoying the views.
Given the long road by train, it pays to invest in a bit of comfort, and even if you don't want to treat yourself to a sleeping car, it's best to get at least a second class seat. Your back will thank you, and in the morning you'll feel ready to start your adventure in Bagan. You can also buy snacks on the train, yet it's good to remember that, unlike on VIP buses, blankets are not provided unless you're in a sleeping car. This is an important detail to remember, as nights can be quite chilly. On the other hand, there's no AC on the trains, and even though upper class cars might have a fan, you will need to dress accordingly for both hot and cold.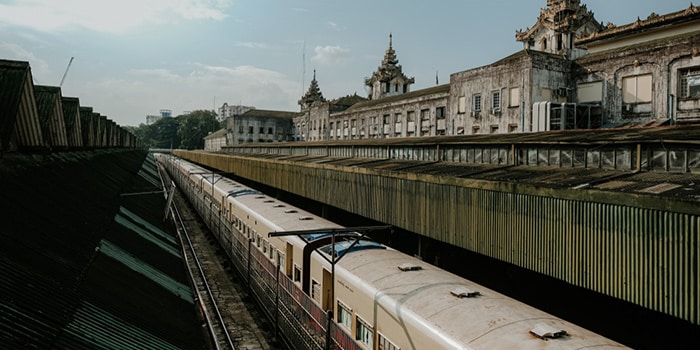 The Yangon Central Railway Station is, as the name implies, located very centrally, and easy to get to. In Bagan, you will be dropped off at the Bagan Railway Station, which is located 2 miles away from the airport, and about half a mile away from the Highway Bus Station. Taxis are available on site, although it's often better to walk the short distance to the highway and get a cheaper taxi ride from there.
Whether you take to the skies, rumble along on the train, or journey by bus, we hope you enjoy the ride and wish you safe travels!
---
Yangon to Bagan FAQ
What is the cheapest way to get from Yangon to Bagan?
The cheapest way to get from Yangon to Bagan is to take the train. While the journey is long at 17 and a half hours, it's a great way to immerse yourself in the local culture. You can browse ticket options and book online at 12Go.asia, with tickets starting at around $4 for ordinary class seating, and increasing to $18 for a bed in a sleeper car.
What is the fastest way to get from Yangon to Bagan?
By far the fastest way to get from Yangon to Bagan is to take a flight. With flight times of just 1 and a half hours, it takes a fraction of the time of buses and trains, even when you factor in your journey to and from the airport. Several airlines provide numerous flights daily, though it's best to book in advance online at 12Go to secure your seat. Flights also tend to be a little more reliable than other methods, and are far less prone to delays and cancelations.
How do you get from Yangon to Bagan?
There are several ways you can get from Yangon to Bagan if you don't have your own vehicle. Overland, you can travel by bus or by train. Though with a distance of 390 miles to cover, you might find it more convenient to fly. Regardless of how you choose to make the journey, it's worth comparing fares and checking availability in advance, on online platforms such as 12Go.asia. Each method has its pros and cons, but ultimately it's down to your preferences, timeframe, and needs.
How long is the bus ride from Yangon to Bagan?
On average, the bus ride from Yangon to Bagan takes around 10 hours. It's wise to expect delays however, especially during peak times. Several companies travel between Yangon and Bagan, each offering varying services and slightly different ticket prices. It's worth comparing your options in advance at 12Go, to ensure you find the best service for you. Some companies that offer night buses claim to make the journey in 9 hours, due to less traffic enroute.
How much is the flight from Yangon to Bagan?
When flying from Yangon to Bagan tickets start from $110 when booked in advance and ordered online at 12Go.asia. Some flights might be more expensive, depending on the airline and when it departs, but for the most part you shouldn't need to pay more than $130 when booking in advance. Expect fares to increase if you buy tickets on the day directly at the airport.
How many days do you need in Bagan?
With its ancient temples and pagodas, Bagan is fast becoming one of Myanmar's top attractions. Besides visiting ancient architectural sites, travelers can immerse themselves in the local culture, taste authentic Burmese cuisine, visit local artisans, and explore the exciting markets. It's worth taking your time in the hidden gem, and spending at least 3-days up to a week.
How useful was this post?
Click on a star to rate it!
Average rating / 5. Vote count: