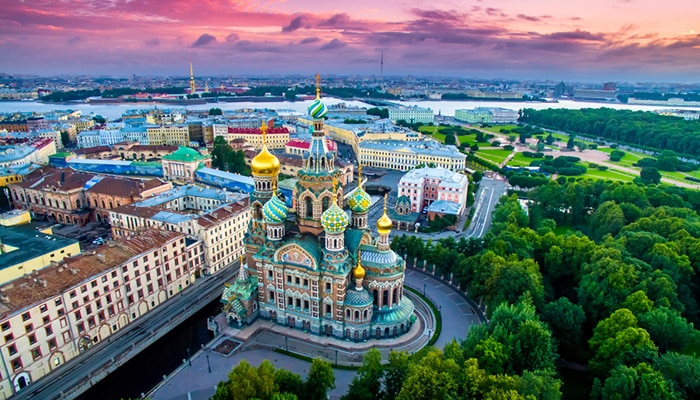 If you simply can't decide between the glorious exhibition rooms of The Hermitage and the twisted onion domes of Saint Basil's Cathedral, the totemic sights of Red Square and the elegant Winter Palace of the onetime tsars, you could just do the whole lot. You'll need to plan a Russian holiday that takes in both Moscow and St. Petersburg.
Thankfully, there are great transport links between them. As the largest cities in Russia, they are separated by just over 635km of country, but also joined by the likes of planes and trains. To see which mode of transport works for you the best, be sure to read on…
Moscow to St. Petersburg by plane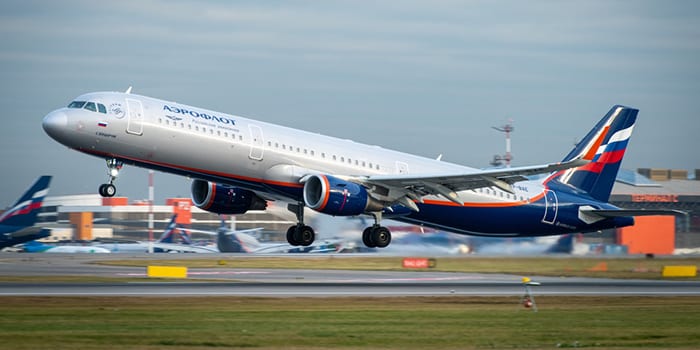 Time – 1.5 hours (flight only)
Price – $45-100
Comfort – 4/5
The plane is a fast and reliable option for going between Moscow and Petersburg. Yep, whizzing up into the Russian skies to the north-west means leaving behind the bulbous domes of Red Square and waving hello to the Baltic Sea in around just 1.5 hours total. Of course, that's the time taken in flight, which means the whole journey from one hotel lobby to the next is likely to be closer to four or five hours. Still, this one's quick.
There are also stacks of connections. On an average late-summer's day, you're looking at a mix of about 25 individual departures at least. That means you should be able to find a flight that works with your travel schedule, no matter if you want to leave at 6am, midday, or just after midnight – there are options. There's also a hodgepodge of airlines on the menu. The most obvious choice is the national flag carrier, Aeroflot. However, the best deals tend to come with Russian budget carrier Nordwind, domestic carrier Ural Airlines, or S7.
Flying is a quick ticket from Moscow to St. Petersburg, and there are plenty of departures all throughout the day.
Some flights from Moscow to St. Petersburg start at the Sheremetyevo A.S. Pushkin International Airport (SVO). Sat on the northern fringes of the sprawling capital, it's now linked to the downtown by a direct express train that takes 35 minutes and costs 620 RUB ($8.90) each way. Others leave from Domodedovo Moscow Airport (DME), which is 42km from the centre but joined by Aeroexpress trains for 500 RUB ($7.20). After landing, you'll find yourself in Pulkovo Airport (LED). From there, you can ride Bus 39 and join the metro network to get to Mayakovskaya in the centre, taking about 1.2 hours total (costs: $1.50).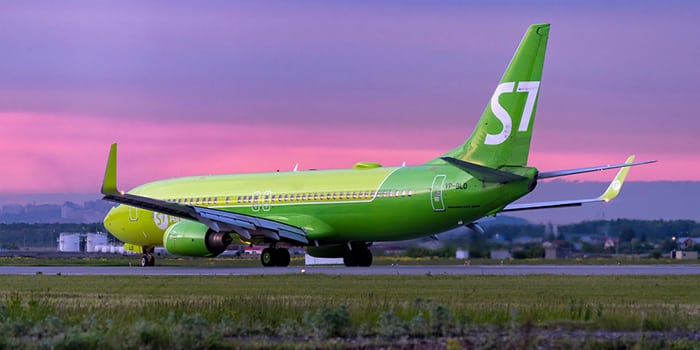 Anything under $50 is a good deal for a flight to Petersburg from Moscow. To be in with a chance of scoring those, you'll want to book early (fares go up and down but are usually cheaper well in advance) and focus on traveling with low-cost airlines like Nordwind. It's normal to have to pay around $15 extra for checked baggage.
Moscow to St. Petersburg by high-speed train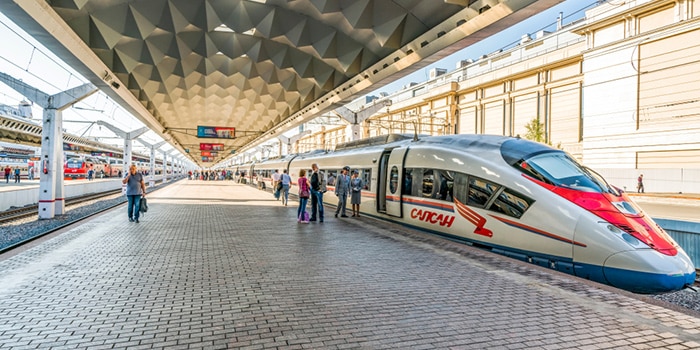 Time – 3h30+
Price – Around $55
Comfort – 5/5
Most veteran travelers will say that there's simply no better way to move around Russia than by rail – this is the land of the great Trans-Siberian, after all. Don't worry, the trip from Moscow to St. Petersburg by train won't take you two weeks. Instead, it's only a couple of hours (3h30-3h50 to be exact). That's down to the high-speed Sapsan Siemens Velaros (known locally as just Sapsan) that now go between the two big cities at a max speed of 250 kph.
There are as many as nine high-speed trains linking the Russian capital with the second city of Petersburg each day. They usually start as early as 5.45am, with the last departures at about 9pm, when the sporadic night-train services take over (more on those later). All are run on modern locomotives that were designed with the excellent German ICE trains in mind – think spacious two-two seating, wide windows, and open-plan architecture with air conditioning. In short: It should be a comfy ride.
Channel a little of that Russian romance by choosing to go from Moscow to Petersburg by train.
You'll depart from the large and grand Moscow Leningradsky Station. That's out on the north-eastern fringes of town but is easily reached using the urban metro network. From there, you roll north-westwards across a large patch of rural Russia. There's nothing too dramatic in the way of views, but it's a steady stream of bucolic farms, flatlands and forests virtually the whole way. The end of the line is at Moscow Station on bustling Nevsky Prospect in the heart of Petersburg.

The good news is that trains in Russia will rarely break the bank. Even for a go on the premium high-speed Sapsan trains, you're looking at paying around $55 per person each way. You can usually keep costs low by reserving on 12Go.co as far in advance as possible. It's normal for tickets on Russian railways to be released around 120 days prior to the date of travel.
Moscow to St. Petersburg by night train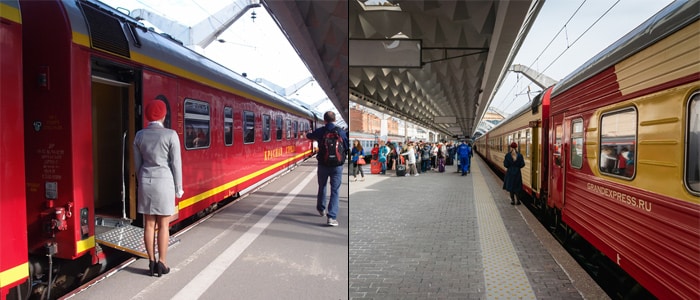 Time – 8-9 hours
Price – $45+
Comfort – 4/5
A night train from Moscow to Petersburg is how this trip was done way back in the Soviet era. In fact, some of the trains that run on the line have been going for decades. Take the famous Red Arrow (probably the best option in terms of style), which sports opulent berths and sleeper carriages with frilly curtains and framed portraits. But it's not all about the atmosphere. You also might want to consider the night trains to Petersburg because they're convenient, comfy and affordable…
Night trains are a classic way to travel all the way from Moscow to St. Petersburg.
The nocturnal services leave from Leningradski Station after 10pm. There are usually three separate options to pick from, all taking between seven and nine hours to complete the whole A to B. The main difference between the bunch will be what they look like inside. (We like the kitschy vintage feel of the Red Arrow, but there's also a modern Grand Express train which comes with ensuite bathrooms in private compartments).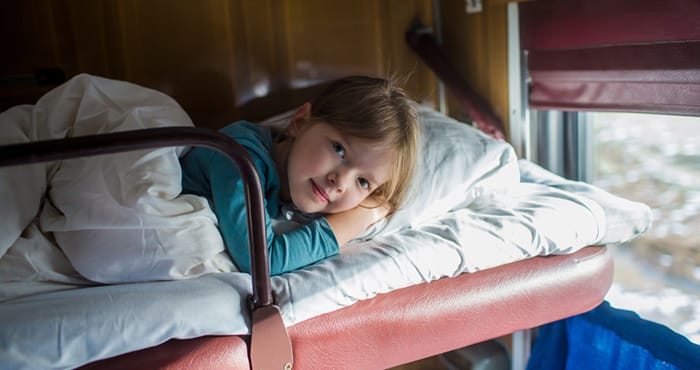 You can often save a packet by booking nice and early. Tickets for these sorts of trains are usually on sale on 12Go.co up to 90 days prior to departure. Expect to fork out around $45 for the cheapest of the lot. That'll be on one of the older night services in a shared compartment. For swishier, more luxurious beds – which might be worth considering scene as you're saving on the cost of a hotel for the night – fares can go up to over $260.
---
Moscow's soaring Art Deco towers and striking Red Square landmarks can be coupled with the elegant Neo-Classical palaces of St. Petersburg in a single trip. All you need to do is get over to 12Go.co and book onto one of the trains or planes that join the two bucket-list cities.
---
Moscow to St. Petersburg FAQ
What is the cheapest way to get from Moscow to St. Petersburg?
It's an annoying answer, we know, but it really does depend! There's a good chance that flights will be priced at under $50, which could make them the cheapest way to go. However, you will usually need to book early on 12Go.co to get enticing deals like that. Alternatively, night trains can sometimes be had for as little as $45, while daytime trains bought in advance are around $55 per person. It's just too close to call.
What is the fastest way to get from Moscow to St. Petersburg?
Thanks to high-speed Sapsan trains, you can now roll from the centre of Moscow to the centre of Petersburg on the tracks in as little as 3.5 hours. That's just a dash less than it would be if you flew, once you've added on the time it takes to get to the airports and downtowns both sides.
What is the best way to go from Moscow to St. Petersburg?
The train is a perennial favourite. Not only is it steeped in history and heritage in Russia, but it's now quick and efficient. For the fastest railway rides, we'd recommend getting onto 12Go.co and searching for the high-speed Sapsan connections as soon as you know your dates of travel.
How much is a train ticket from Moscow to St. Petersburg?
They usually start at around the $55 mark. That's for a high-speed line on the Sapsan service (taking under four hours). If you're asking about the night trains, then you can book up to 90 days in advance using 12Go.co to be in line to score tickets for about $45 per person.
How long is train from Moscow to St. Petersburg?
The day train from Moscow to St. Petersburg takes roughly four hours, although the quickest services on the line last just 3.5 hours. Night trains will take upwards of seven hours, leaving the capital after 10pm for arrivals in the early morning.
Is it better to fly from Moscow to St. Petersburg or take the train?
We'd edge towards the train. New Sapsan locomotives that can hit speeds of 250 kph now make it a zippy link from Moscow to Petersburg. What's more, prices are comparable to the best deals on flights, only you don't have the added cost of transfers to the airport and whatnot. In addition to that, the trains are comfy and let you see lots of Russian backcountry as you travel.
How useful was this post?
Click on a star to rate it!
Average rating / 5. Vote count: