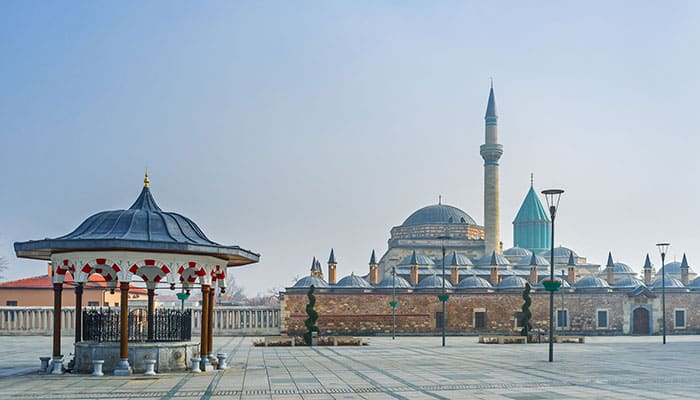 Turkey's largest city, Istanbul, bridges both Europe and Asia and has so much to offer, making for an amazing place to visit. Filled with culture and history, spectacular architecture, all kinds of shopping experiences, and great dining opportunities, Istanbul is a cosmopolitan city that has something for everyone. In contrast, the Turkish city of Konya is known as one of the country's more religiously conservative, famous for the Whirling Dervishes and for the tomb of their founder, Rumi. Museums, mosques and more are all attractions in Konya. Getting from Istanbul to Konya is easy with a range of transportation options that we'll detail below.
Options for Travel from Istanbul to Konya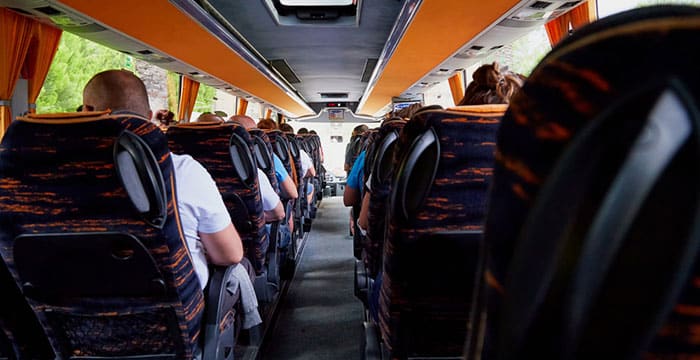 The distance from Istanbul to Konya, in central Turkey, is about 700 kilometers (437 miles) by road so it's quite a journey if you decide to travel this way. Estimated drive times if traveling by car are close to 7.5 hours, while going by bus will take even longer. The good news is that there are fast travel options from Istanbul to Konya too, including flights and a high-speed train which will cut your journey time down by several hours.
Istanbul to Konya by Bus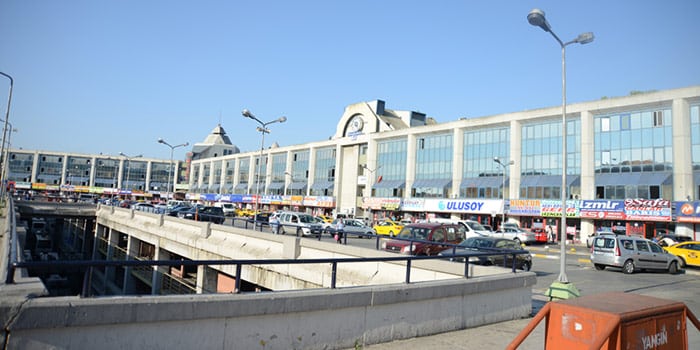 Time – 10 h
Price – $25
Comfort – 4/5
Bus travel in Turkey is popular because it's an affordable way to travel and there are plenty of bus companies operating on many routes around the country. You will find many options for buses between major cities, such as Istanbul to Konya, giving you a range of departure times across the day or traveling overnight.
Unless it is a very busy time of year, such as around Ramadan, you should be able to turn up at the bus station and buy a ticket for a bus departing that same day. Ramadan is a very busy time to travel in Turkey so keep an eye on the dates for this and if you are visiting during this time, it is highly recommended to buy your bus tickets in advance. Advanced booking is a good idea either way, as it allows you to select a good seat and makes sure you can get on the particular bus from Istanbul to Konya that best suits your travel plans.
You can book online through 12Go. They sell tickets for around 27 buses departing every day from Istanbul to Konya, leaving at various times starting at midnight, and the last one of the day is at 23:45. If you are booking in advance, be sure to check where the bus is departing from. Istanbul is a massive, sprawling city so oftentimes a bus will stop at several different points within the city before hitting the open road.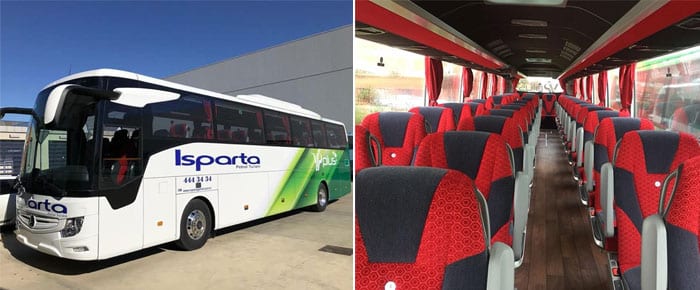 Some of the departure points include Istanbul Central Bus Station, Harem Bus Station, Atasehir Dudullu Bus Station, and Alibeykoy Bus Station, so check which is the closest to where you are staying in Istanbul as you don't want to have a big journey just to get to the bus station! The good news is that once you reach Konya there is just one arrival point, the Konya Bus Station which is north of the city center.
The scheduled travel time for buses from Istanbul to Konya varies a lot. The fastest advertised travel time is just 8 hours, and that is an overnight bus. Even traveling overnight, 8 hours seems a little optimistic! The slowest bus, however, is scheduled to take 12 hours which does seem to be longer than necessary, so if travel times are important to you, do check the scheduled arrival times and duration before booking.
High Speed Train Istanbul to Konya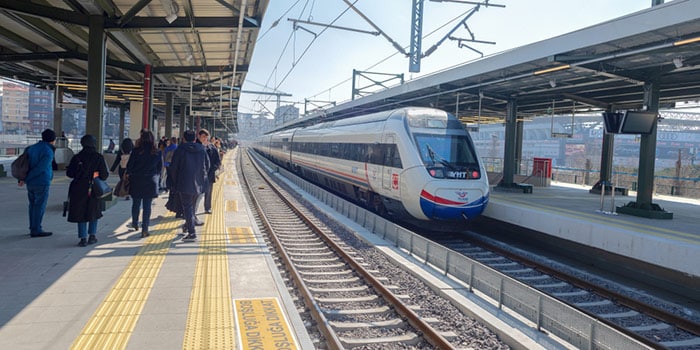 Time – 5 h
Price – $15+
Comfort – 5/5
In the past, train travel in Turkey was notoriously slow, but thanks to a new high-speed rail network, there is now a train from Istanbul to Konya that will get you there in record time!
Turkey's high-speed train network is still in its early stages with plans for many more lines to be added. The first lines to be created were to and from some of the country's largest cities, and that included Istanbul to Konya. So, you can now travel by train from Istanbul to Konya in about 5 hours on a modern and very comfortable train that will have a number of facilities onboard and be a far smoother journey than traveling by bus.
The price of the train from Istanbul to Konya is more than a bus ticket, but it's not an ultra expensive option. In fact, at less than 50% more, it makes the train a viable option considering that it gets you to Konya several hours faster than a bus. These high-speed trains in Turkey are said to be exceptionally punctual as well, and it is far easier to know when a train will arrive compared to a bus that can be held up by traffic along the way! Trains from Istanbul to Konya will allow you to see plenty of Turkey's countryside and a great variety of scenery as well as many towns along the way.
Right now, there are three trains from Istanbul to Konya per day, and you can catch the train from one of three railway stations within Istanbul. All trains depart from the Asian side of the city, so if you are on the European side you will need to cross the Bosphorus first. The initial departure station is Sogutlucesme Railway Station, then Bostanci, then Pendik. Sogutlucesme is the closest train station to the center of Istanbul and the old city, and trains depart from there at 06:40, 12:10 and 18:00. There are a few stops once you are out of Istanbul, stopping in major cities along the way such as Izmit, but the entire journey takes around 5 hours.
Flight from Istanbul to Konya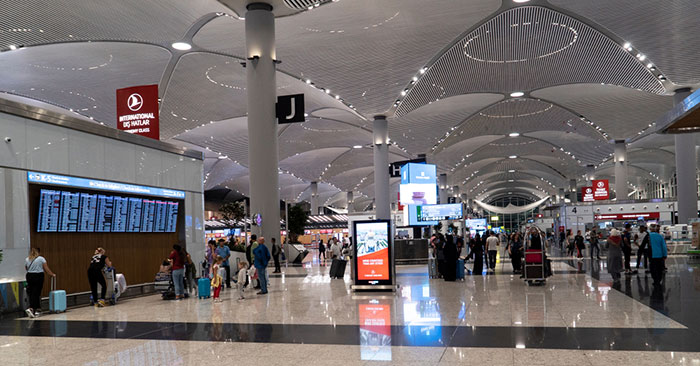 Time – 1 h 10 min
Price – $30+
Comfort – 4/5
If you want to get from Istanbul to Konya in the fastest time possible, catch a flight! Flying is also the most expensive way to travel, but similarly to the difference between a bus and a train ticket, the extra cost is not significantly more. Flights from Istanbul to Konya only take around an hour and ten minutes, but you will need to factor in the time it takes to get to the airport in Istanbul and from the airport in Konya.
Istanbul has two airports: the primary airport, simply named Istanbul Airport (which replaced the older Ataturk Airport), and the smaller airport, Istanbul Sabiha Gokcen. Unfortunately both are quite some way outside the city center. Sabiha Gokcen International Airport is about 32 kilometers (20 miles) to the southeast, while Istanbul Airport is about 42 kilometers (26 miles) to the north west, so getting to either airport from heart of the city can be quite a trek.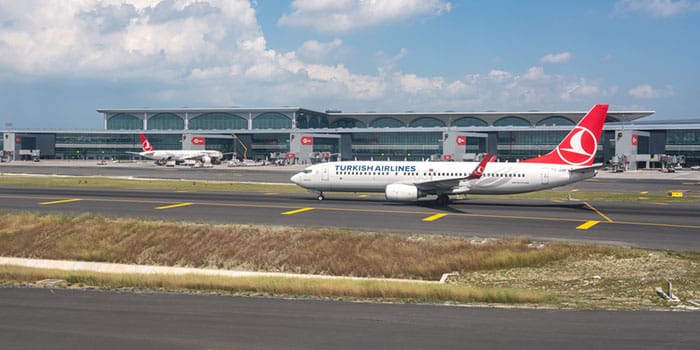 Even so, a flight from Istanbul to Konya is still the fastest way to get there, so if you don't mind a longer transfer to the airport to begin with, flying will save you time. AnadoluJet and Pegasus Airlines both fly from Istanbul Sabiha Gokcen while Turkish Airlines has flights to Konya from Istanbul Airport.
With three good transport options to get you from Istanbul to Konya, it should be easy to find one that suits your schedule and budget. Although buses do take the longest time, in many ways they are the most convenient because they depart from right in Istanbul and bring you all the way to the city of Konya, just outside the city center. Flights are fast but the inconvenience and the extra cost could put some travelers off, while the trains are a good middle-ground in terms of cost and convenience.
How long is the bus ride from Istanbul to Konya?
The bus trip from Istanbul takes around 9 hours. The shortest bus route is around 700 kilometers (437 miles). With the average price of a bus ticket being $25 online.
How far is Konya from Istanbul ?
Konya is around 700 kilometers (437 miles) from Istanbul. The easiest way to get there is by direct train, and the route is pretty straightforward.
Is there a direct train between Istanbul to Konya ?
Yes, you can now travel the 700 kilometers (437 miles) by train from Istanbul to Konya in about 5 hours on a modern and very comfortable train that will have a number of facilities onboard and be a far smoother journey than traveling by bus.

How useful was this post?
Click on a star to rate it!
Average rating / 5. Vote count: