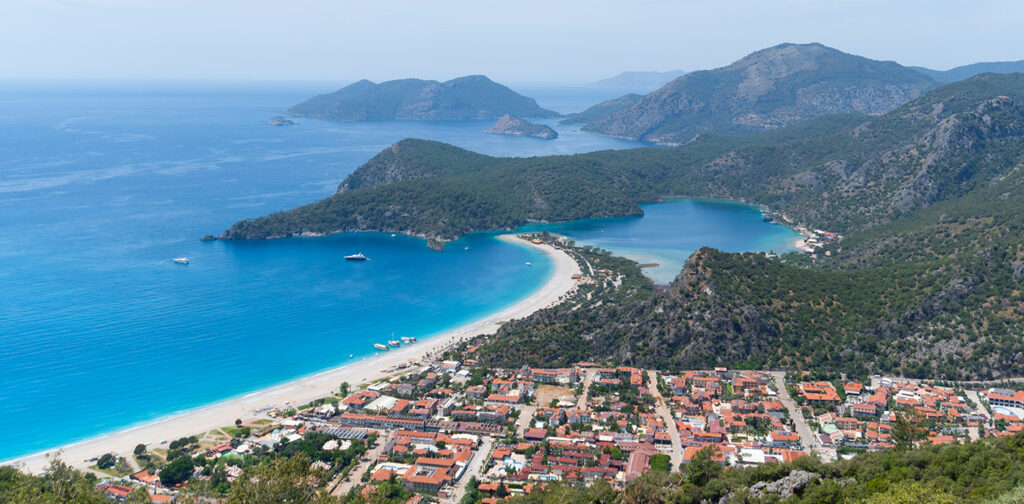 Turkey's Mediterranean coastline is simply full of amazing sights and scenery, whether you enjoy exploring the ruins of ancient civilizations or want to spend your days on the beach, there's an abundance of both, and plenty more! Antalya, Turkey's fifth largest city, is a bustling place and a good starting point for a tour of the country's Mediterranean towns including Fethiye.
Known for its rock-carved tombs, natural harbor, and the nearby 'blue lagoon' at Oludeniz, Fethiye is highly recommended if you're touring around the Turkish Riviera. Enjoy the beaches, wonderful food, friendly welcome, shopping, history, culture and more, when you travel from Antalya to Fethiye.
Options for Travel from Antalya to Fethiye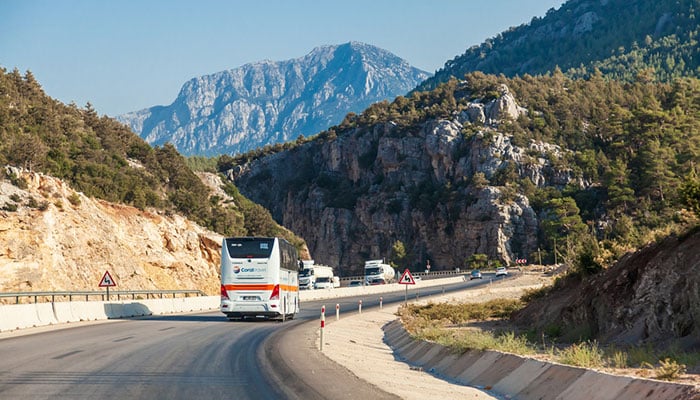 Fethiye lies to the west of Antalya, on Turkey's Mediterranean coast, in the south of the country. If you could travel in a straight line from Antalya to Fethiye, the distance separating these cities is only around 140 kilometers (87.5 miles). Unfortunately, a straight line is not possible, with highways meandering around mountains, rivers and towns, adding many kilometers to the journey, but also allowing you to see some great scenery. The shortest road route is therefore 196 kilometers (122 miles), or if you were to follow the coastal road – an even more scenic route – the total drive is about 300 kilometers (188 miles).
Buses from Antalya to Fethiye are plentiful, with over 30 departures per day, so this is usually the most popular way to travel. Buses are commonly used by locals as well as tourists because they are an affordable choice. Renting a car and driving yourself is also very popular as it allows you to spend plenty of time exploring and making the most of the scenery. A final option is to take a private taxi that provides door-to-door service.
Antalya to Fethiye by Bus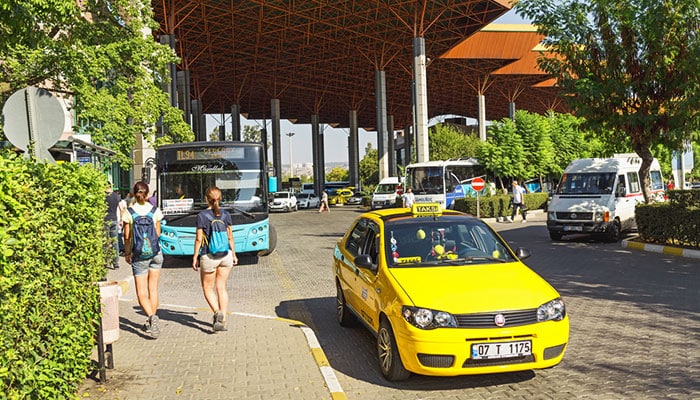 Time – 3 h
Price – $5+
Comfort – 4/5
With over 30 buses from Antalya to Fethiye per day, there should always be a bus available, whatever time of day you want to travel. Departures are spread right across the 24 hours, allowing you to travel overnight or through the day, or leaving late afternoon and arriving in time for dinner in Fethiye. Journey times can vary by a lot though, so if you don't want to be stuck on a bus for longer than necessary, do check the schedules carefully before choosing your bus. Typical journey times are between 2.5 hours and 3.5 hours, yet for some reason, there are a few buses operated by the same company that manage to take 5.5 hours!
Buses in Turkey are modern and comfortable though, so if you do find your journey taking longer than predicted, you should be comfy and taken care of as there will usually be a steward onboard offering cups of water and refreshing wipes.
Most of the buses from Antalya to Fethiye will depart from Antalya Bus Station which is a little north of the city center on one of the main roads out of Antalya. In Fethiye, arrival is at the Fethiye Bus Station. It is quite centrally located within the city, a kilometer or so from the waterfront. A few of the bus companies have a different departure point, so check where the buses are leaving from before making a decision.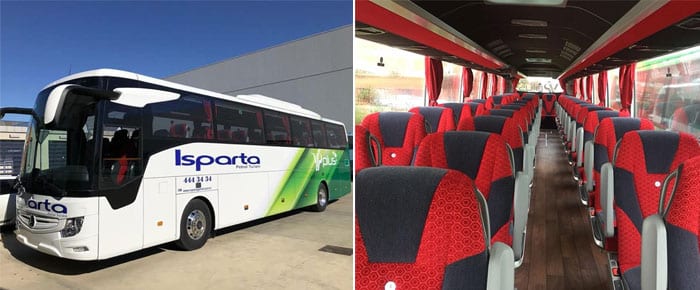 With so many buses, you can often just turn up at the bus station and buy your tickets there and then, allowing you to get on the next bus that is departing. If you're more picky about your seat selection and want to travel with a specific company, you can easily book your bus from Antalya to Fethiye in advance. Travel booking website, 12Go, offers ticket sales with a number of Turkish bus companies operating on this route, including Isparta Petrol, Guney Akdeniz Seyahat, Mardin Seyahat, Fethiye Seyahat, and more.
Taxi from Antalya to Fethiye

Time – 3 h
Price – $180
Comfort – 5/5
Buses are great because they are very affordable and there are many of them to choose from, so it's easy to find a bus that fits in with your own schedule. A private taxi offers even more convenience though, because it can take you all the way to your hotel in Fethiye so that you don't have to worry about finding local transport from the bus station. The only problem is the cost, because being driven in a private taxi pushes the cost up quite substantially, especially if you are traveling alone, or perhaps with only one or two other people.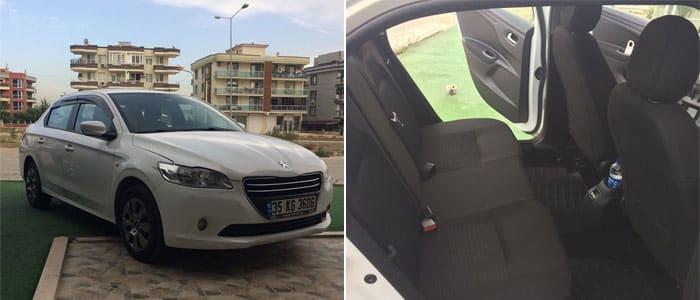 For private taxis from Antalya to Fethiye there are three vehicle types that you can book through 12Go: a Comfort sedan, a 7-person minivan, or a 13-passenger minibus. The minibus can give the best value for money if the cost is divided between 13 people. It is still roughly double the bus ticket price, but then when you add in the cost of transferring from the bus station there is not much difference. The only other thing to note with this service bookable through 12Go, is that pickup is at Antalya Airport. This is perfect if you are flying in and want to travel directly to Fethiye but not so great if you are already staying within Antalya city. There will be other services available though, if you need a pickup from an Antalya hotel.
Rent a Car from Antalya to Fethiye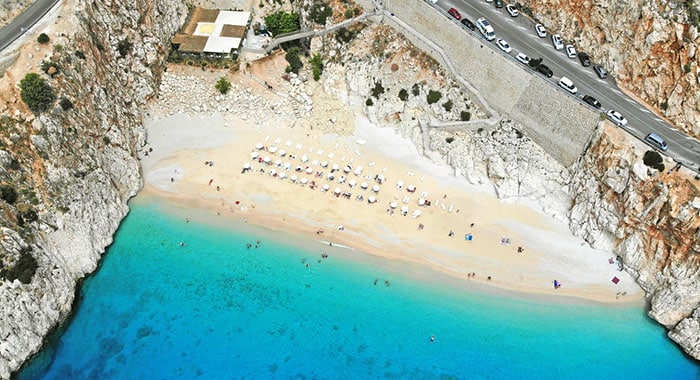 Time – 3 h
Price – $100+ for 3 days
Comfort – 5/5
Taking a bus from Antalya to Fethiye is the most popular way to travel between these two cities, but if you have time to spare, renting a car and driving yourself is an amazing way to experience this spectacular coast. Driving yourself is highly recommended because you can take your time and drive along the coastal road rather than the inland highway. There are many beautiful little seaside towns to explore along with ruined settlements dating from Roman times that are a little off the beaten track which you certainly would not see if traveling by bus.
Some of the prettiest towns include Finike and Kas, where you could spend a night in a large hotel or opt for a small pansion, that are often family-run places and include breakfast.
All of the major international car rental companies are present in Turkey along with numerous local ones too. To be sure you rent a well-maintained car it is better to go with the bigger companies and they will have offices in the heart of Antalya as well as at the airport.
The journey from Antalya to Fethiye offers some great scenery, no matter which way you decide to travel. Take the bus if you want to travel cheaply, or go for the private taxi if you want to be driven all the way to your hotel. Or, if you like adventure and don't mind driving yourself, rent a car and take it slow on the coastal road!
How long is the bus ride from Antalya and Fethiye?
Typical travel time are between 2.5 hours and 3.5 hours. The distance of the shortest bus route is 196 kilometers (122 miles). The cheapest bus tickets can be found online for around $5.
What's the best way to get from Antalya and Fethiye?
The best way to get from Antalya to Fethiye is by direct bus. There are several daily buses that run between the two cities, and the journey takes approximately 3 hours. The buses are comfortable and air-conditioned, and offer a great way to see the beautiful Turkish countryside. Bus tickets can be purchased from most major bus stations, or online in advance.
Is there a direct train between Antalya and Fethiye ?
There are no direct trains between Antalya and Fethiye. You can take a bus from Antalya to Fethiye. Typical journey times are between 2.5 hours and 3.5 hours.
How far is Antalya from Fethiye?
Antalya is around 196 kilometers (122 miles) from Fethiye. The easiest way to get there is by road, and the route is pretty straightforward. Just head north on the D400 highway and you'll eventually reach Antalya. It's a pretty drive, too – you'll go through some picturesque mountain scenery and straight past the famous archaeological site of Termessos on the way.
What is the best time to go Fethiye?
The best time to go to Fethiye really depends on what you're looking for in a holiday. If you're hoping for some great weather, then late spring or early autumn are ideal – you'll avoid the crowds of summer but still enjoy some lovely warm weather. However, if you want to experience all that Fethiye has to offer, then summer is definitely the best time to visit. There's so much going on – from festivals and fireworks displays to open-air concerts and cultural events. Whatever you're looking for, there's sure to be something happening in Fethiye during the summer months!
Which is better Antalya or Fethiye?
Both Antalya and Fethiye are popular destinations, but for different reasons. Antalya is well known for its stunning beaches and Mediterranean atmosphere, while Fethiye is popular with hikers and climbers thanks to its dramatic mountain scenery.

Ultimately it depends on what you're looking for in a holiday. If you want a relaxing beach vacation then Antalya is probably the better choice, while if you're more adventurous and want to explore the natural landscapes of Turkey then Fethiye is a great option.
How useful was this post?
Click on a star to rate it!
Average rating / 5. Vote count: