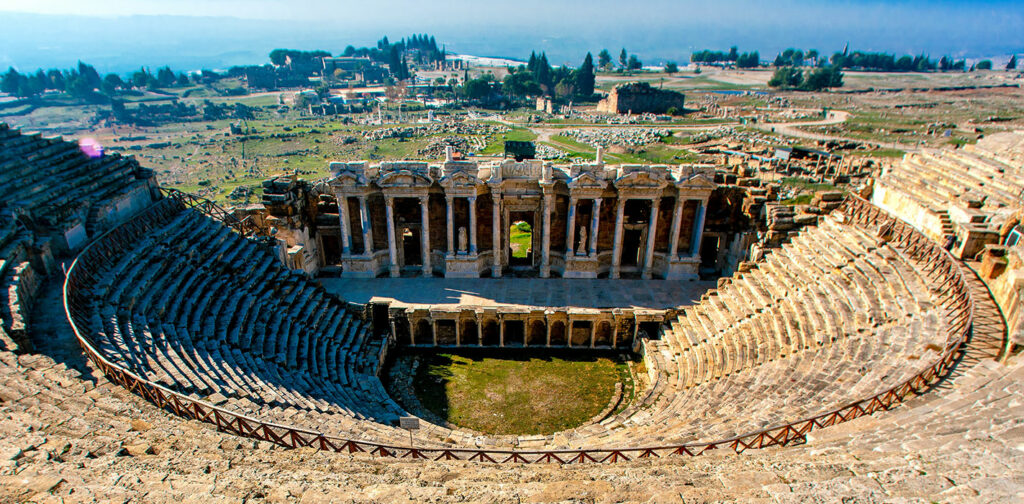 The Turkish city of Antalya, like many others on the country's Mediterranean coast, was first established in ancient times and became prosperous under the reign of the Romans. Today it is the fifth largest city in Turkey and attracts millions of tourists every year for its combination of history, culture and beaches. There is so much to see and do in the area surrounding Antalya, but one of the best-known destinations is Pammukale, a natural attraction that is a World Heritage Site. Meaning 'cotton castle' in Turkish, this unique place has travertine formations and hot pools that have attracted visitors as far back in time as the ancient Greeks, who built the city of Hierapolis here. Both Pamukkale itself and Hierapolis can be visited, so if you're looking at ways of traveling from Antalya to Pammukale, read on for all the details.
Options for Travel from Antalya to Pammukale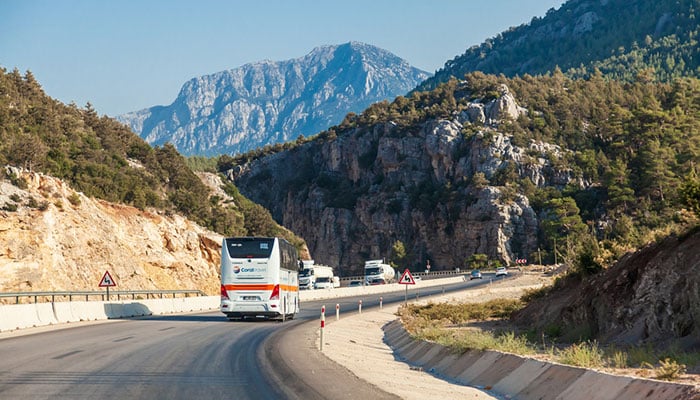 The distance from Antalya to Pamukkale is about 240 kilometers (150 miles), most of which is on fairly major highways. The highway system in Turkey has been updated in recent years with more sections of dual carriage highways, allowing for faster and safer travel between cities. This is good news as traveling by bus is a popular way to get around Turkey, used by both tourists and locals to travel longer distances. Buses are, unsurprisingly, the most popular way to travel between Antalya and Pammukale as they are cheap and they depart frequently.
It is possible to travel from Antalya to Pammukale just for a day, however, this doesn't give you much time to enjoy this amazing place. If you want to go for more than just a day, either arrange a nearby hotel yourself, or join an organized tour group as there are many private tour companies operating out of Antalya. This would be a more expensive option but is nice if you like everything to be organized for you.
Antalya to Pamukkale by Bus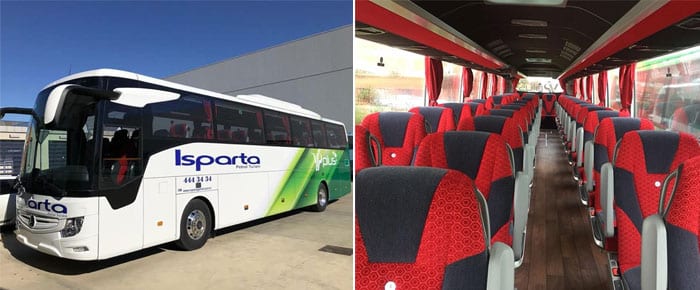 Time – 3.5 h
Price – $6
Comfort – 4/5
Traveling by bus in Turkey is a very popular way to get around, with hundreds of buses departing for cities all over the country every day. This has resulted in there being a high number of bus companies to choose from, some providing a more luxurious service than others, so there are usually buses from Antalya to Pamukkale to suit most budgets. Buses are cheap anyway but if you want to save as much money as possible there are some slightly cheaper options with a few less creature comforts onboard!
To give you an idea as to just how many buses travel between Antalya and Pammukale every day, there are 42 departures listed on the popular travel booking website, 12Go. These operate all through the night, starting 00:30, then all through the day, with the last departure at 23:59. So really there is no gap overnight, as buses continue to depart 24 hours a day!
This is great if you want to head to Pammukale just for a day, because you can leave Antalya early in the morning, spend the day in Pammukale, and then catch a bus back to Antalya arriving late in the evening. This would make for a tiring day, but it is possible! If time is of the essence, do check the schedules carefully as some buses are advertised as taking a lot longer than others. Journey times for buses from Antalya to Pamukkale vary between 3 hours 15 min to 5.5 hours. Admittedly, making the journey in 3 hours 15 min hours may be a bit optimistic, as an average journey time should probably be around 3.5 hours. However, different bus companies may take different routes and have pickups along the way or rest stops, so this will impact the overall journey time.
You can book bus tickets from Antalya to Pammukale in advance using 12Go. They offer tickets with some of the major regional bus companies, including Pammukale Turizm, Isparta Petrol, Ozkaymak, Guney Akdeniz Seyahat, and more.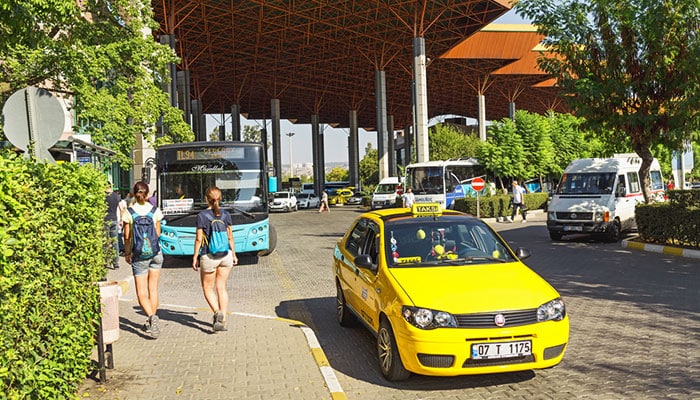 You can also buy tickets right at Antalya Bus Station. There are many more bus companies in addition to those above, offering buses from Antalya to Pammukale, so you should have a good choice of bus times and seat availability.
An important note is that these buses will not take you right to the steps of Pamukkale. The route they take will get you to the nearby city of Denizli, to the Denizli Bus Station. From here you would use a different mode of transport to Pamukkale, which is about 18 kilometers (11 miles) away. Although this adds an element of hassle, as you're not getting all the way to Pamukkale on a bus, it's really not a problem as there are frequent (and cheap) minivans that leave from the otogar (bus station) to Pamukkale. In Turkish, these minivans are called 'Dolmus', which means 'full up'. The idea behind this is that they leave when they are full. This could mean you have a short wait before the driver is satisfied he has enough passengers to make the journey worthwhile.
Private Taxi from Antalya to Pamukkale

Time – 3h
Price – $160
Comfort – 5/5
For travelers who prefer more of a handcrafted experience where you don't need to worry about other tourists or bus company schedules, a private taxi from Antalya to Pamukkale could be right for you. This does cost substantially more than a bus ticket so wouldn't be a good choice for anyone traveling on a budget, but if you are with a group of friends or family members, and you hire a larger vehicle, the cost per person comes down and makes this actually quite a reasonable amount.
You can book a private taxi for Antalya to Pamukkale through 12Go. They offer services with Karabag VIP who have three different vehicle types: a standard size 'Comfort' sedan, a 7-person Minivan, or a 13-passenger Minibus. The difference in total cost between the car and the 13-passenger van is not that large, hence dividing the cost between a number of people can make this quite cost effective.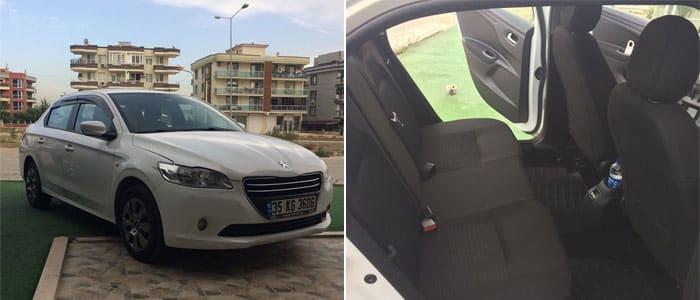 The biggest advantage of traveling from Antalya to Pamukkale by taxi is that you don't have to worry about any transfers or fitting in with schedules. This is because the taxi will pick you up from your hotel in Antalya at whatever time you choose, and take you all the way to Pamukkale. You could even arrange to have a service that drives you back to Antalya after you have spent the day, but you would need to arrange this in advance, not with the driver.
As you can see, with Pamukkale being such a popular destination, traveling from Antalya to Pamukkale is easy and can be done at a very affordable price. Take the bus to Denizli and a minivan from there, or go for the private taxi option and enjoy the convenience of a door-to-door service. Or, you could look into private tour companies if you want to spend a little longer and include a night in a local hotel.
Is Pamukkale worth visiting?
Yes, definitely! Not only is Pamukkale a beautiful natural wonder, but it's also home to an excellent Archaeological Museum and is a Unesco World Heritage Site.

The hot springs at Pamukkale are a must-see, too. They're incredibly relaxing and therapeutic, and the perfect way to end a day of sightseeing.
How long do you need in Pamukkale?
If you're interested in history, then you'll need at least a day to explore Pamukkale. It's an ancient city with a lot of ruins to see. Even if history isn't your thing, the ruined city is still beautiful and worth a visit.
How long is the bus ride from Antalya to Pamukkale?
If you're looking to travel from Antalya to Pamukkale, you can expect the bus ride to take around 3.5 hours. The journey is approximately 240 kilometers (150 miles), so make sure you have a good book or some snacks to keep you entertained during the trip!
What's the best way to get from Antalya to Pamukkale?
The cheapest way is to take the bus, which costs around $6. The journey takes approximately 3.5 hours.

Alternatively, you can take a taxi or a private car. This will be more expensive, but the journey will be much faster – it will only take around two hours. Prices vary depending on your destination, but expect to pay at least $160 for a taxi or private car.
Is there a direct train between Antalya and Pamukkale ?
No, there is no direct train between Antalya and Pamukkale. The Turkish train network isn't bad but it's relatively new. There still aren't many connections going into the far south of the country, mainly because of the challenges of laying track through the mountains. However, you can take a bus or drive. The journey by bus takes about 3.5 hours, while the journey by car takes about 3 hours.
How useful was this post?
Click on a star to rate it!
Average rating / 5. Vote count: