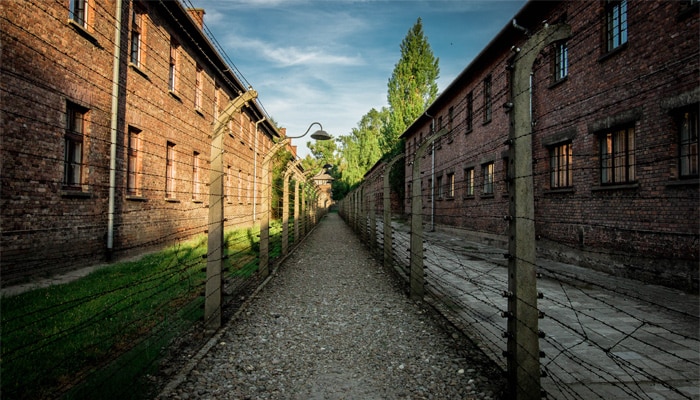 Millions of travelers make the trip from Poland's cultural capital of Krakow to the UNESCO World Heritage Site of Auschwitz each year. They come to pay their respects and unravel the dark history of one of Europe's most striking and sobering places: Auschwitz-Birkenau concentration camp. Between 1940 and 1945, it was one of the principal points of Nazi implementation of the Holocaust.
Today, it's part museum, part memorial, chronicling the years of destruction and remembering the victims. The site lies near the modern Polish town of Oswiecim, around 32 miles from Krakow in a straight line going west. This guide runs through all the ways you can make the journey, whether by road, rail or organised tour.
Krakow to Auschwitz by bus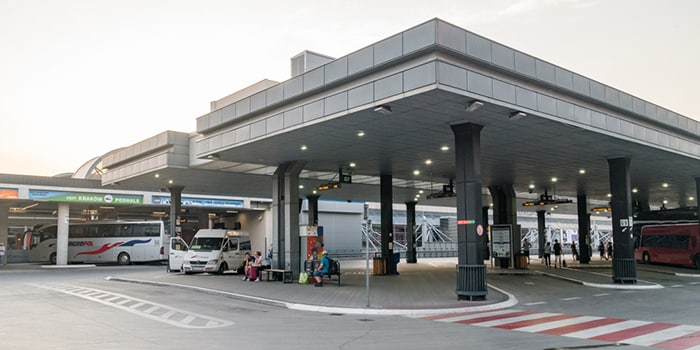 Time – 85 minutes+
Price – $3.3
Comfort – 3/5
Make for the large, two-storey Dworzec Autobusowy (Main Bus Station) on the north side of beautiful Krakow Old Town and you'll find regular buses going down to Auschwitz. They start as early as 6am and won't stop until nearly 8pm, although that's certainly too late to make it to the museum before close. Trips to the site take 1.25 hours in normal traffic. Tickets are priced at an affordable 14 PLN ($3.3) each way, or 28 PLN ($6.6) return. Oh, and the buses will stop conveniently right outside the museum itself.
Before you get planning your jaunt on the local bus links, there are a few things to bear in mind. These days, everyone who wants to go to Auschwitz needs to register their visit online beforehand. Unfortunately, that often means that all open places are booked up by big tour companies. What's more, the museum prohibits self-guided tours after 10am and before 4pm in the high-season months, so you'll be seriously limited on the times you can arrive if you do come in the summer.
Self-guided trips to Auschwitz have become harder to piece together, but they are still possible with a little forward planning.
It's still possible to do it alone using the buses to get to the museum. You'll just have to be sure you pre-book well before your trip to Poland and plan your arrival times accordingly. In addition, you'll need to decide if you want to join one of the informative guided walks of the site (recommended) that cost 60 PLN. If so, you'll need to add that to your booking.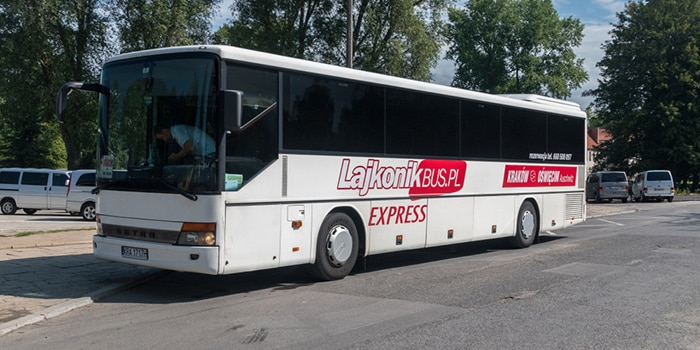 The buses themselves are a comfy enough way to travel if you do go down this route. They're usually small minivans with room for 12-14 people at once. The company Lajkonik is the most common operator, but there are also a number of others. They use the main road going westward from Krakow, through swathes of Polish woodlands and rolling hills.
Krakow to Auschwitz by organised tour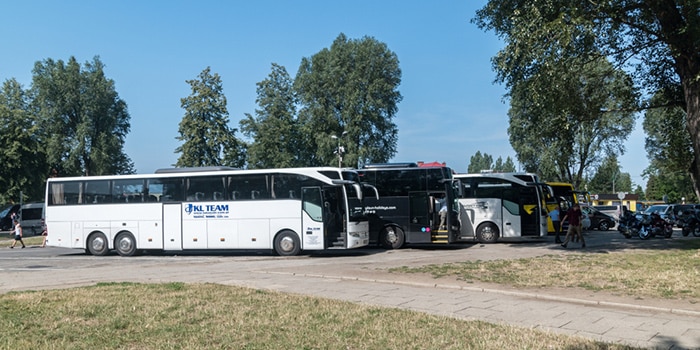 Time – All day
Price – $23+
Comfort – 4/5
A large contingent of the millions of visitors who make for Auschwitz from Krakow will be part of an organised tour. They run all throughout the year, multiple times per day, with a whole host of different companies. The package is essentially the same for each: A pickup at your hotel or accommodation in Krakow, a minivan transfer to the Auschwitz-Birkenau museum gate, a dedicated tour guide to take you around, and then a transfer back to the city once the tour is finished.
Booking onto an organised tour is the only real way to guarantee entry to the Auschwitz museum site.
Because recent changes mean that every visitor to Auschwitz now needs to pre-book their place online and in advance, the organised tour route is probably the simplest and most hassle-free way of putting together a trip. You'll be guaranteed entry, can be certain to arrive on time, and will get a dedicated educator to help you make sense of both Auschwitz I and Auschwitz II-Birkenau (the two main portions of the site)
All that comes with an inevitable increase on the price front. Most day-long tours start at about 99 PLN ($23) per person, although you might be able to get some cheaper than that. There are also pricier options for those who want to go on a private tour, so it's just you and your travel partners in the minivan to the museum, or extend the itinerary to include the Wieliczka Salt Mine or other regional historical attractions.
Krakow to Auschwitz by train

Time – 1h40 (train only)
Price – $3.7 (one way)
Comfort – 4/5
While the trains in Poland might not be as comfortable or as quick as on other European networks, they still offer a regular way to move between Krakow and nearby cities. Among them: Oswiecim – the home of the Auschwitz-Birkenau museum and memorial. All services run from the main Krakow Glowny station. Once there, take the pedestrian tunnels that lead to the underground ticketing area. The platforms can be accessed via lifts and stairs above. Services leave hourly.
The train serves the city of Oswiecim, not the official Auschwitz-Birkenau museum, from the heart of Krakow.
Bear in mind that you'll be arriving at Oswiecim train station. That serves the modern town of Oswiecim, not the infamous Auschwitz site that most travelers make the trip to see. The upshot? You'll need to walk the 1 mile from the platforms to the museum entrance (it's a pleasant enough stroll when the sun's shining) or catch an onward local bus (ask the driver for the stop called Muzeum).
Of course, planning your own trip like this means you'll also need to pre-book your entry for the Auschwitz museum and memorial if that's where you're headed. We recommend you do that long in advance to avoid disappoint, and certainly consider paying the extra 60 PLN ($14.5) it costs for a qualified tour guide and program.
Krakow to Auschwitz by taxi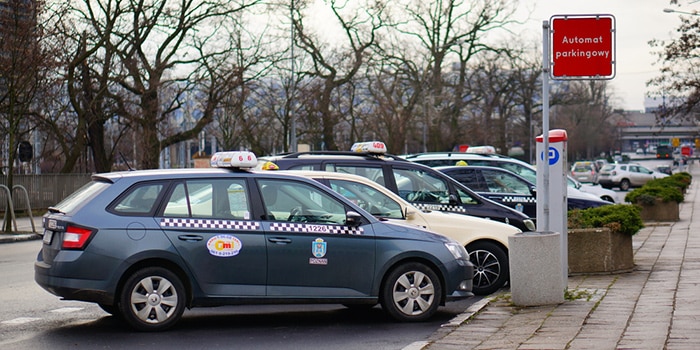 Time – 1 hour
Price – $73 (one-way), $130+ (return)
Comfort – 5/5
A taxi is a sure shortcut straight to the gate of the iconic Auschwitz museum and memorial. They'll set you back about $130, but that's the cost for a whole group of between one and four people. That's also the rate for the return trip, which means you'll have a driver ready and waiting to whisk you back to Krakow's castles and Gothic churches after you're done with the 3.5-hour tours on site.
The trip in the car from Krakow's centre usually takes about one hour but might be more when there's bad traffic (as there often is on the way out of town). However, one of the real draws of choosing this transport method is that you can opt to go really early. That will help you skip the crowds and the queues, and even maybe make the self-guided entries that are free before 10am in the summer months.
---
Auschwitz is known around the globe for its onetime concentration camp, which is now an amazing and heart-wrenching memorial to the destruction wrought on Poland and Europe by the Nazis. This guide can help you head off to explore it during a stay in the wondrous UNESCO city of Krakow.
---
Krakow to Auschwitz FAQ
What is the cheapest way to get from Krakow to Auschwitz?
Buses from the Krakow Dworzec Autobusowy are the cheapest mode of transport for reaching Auschwitz. They can take you right to the door of the museum there for just 14 PLN ($3.3) each way. They might get busy during the popular summer months, so it could be wise to book your tickets in advance using a service like 12Go.co.
What is the fastest way to get from Krakow to Auschwitz?
A taxi promises the speediest route in and out of Auschwitz. They're faster than buses and organised tours because they can drive quicker and won't need to stop to pick up other visitors. The downside? They can be pricy, with average rates of about $130 return. To score potential bargains, be sure to check out the offers on 12Go.co.
Is there a bus from Krakow to Auschwitz?
There are loads! They leave from the main Krakow bus station (Dworzec Autobusowy) over the large plaza across from the north-east side of the Old Town. The main company running on the route is Lajkonik, but there are also a few others, all of which can be booked online in advance using 12Go.co.
How long is the bus from Krakow to Auschwitz?
It's about 80 minutes in total. However, bear in mind that traffic can be unpredictable in Krakow, especially during morning rush hours and the afternoons. That means you could be on the bus for up to two hours, although it is rare. To ensure you make the museum in time and to beat the crowds, it might be wise to use 12Go.co to book your tickets for a departure that's nice and early on.
How much is taxi from Krakow to Auschwitz?
If you're keen to get your own taxi all the way to Auschwitz, you're probably going to need to fork out around $73 for a one-way ride. For a return trip – to have the driver waiting for you after you've completed the tour of the museum – costs are around $130. It's always better to pre-book those services online using 12Go.co to avoid sudden price increases.
How much does it cost to go to Auschwitz from Krakow?
That really all depends on how you want to travel. It's possible to do the trip to Oswiecim on the train for just $3.7. And if that sounds cheap, you'll be pleased to hear the buses are even less, with average rates of about $3.3 each way. Taxis and guided tour groups are the most expensive methods – they'll be between $100 and $150 total.
How useful was this post?
Click on a star to rate it!
Average rating / 5. Vote count: