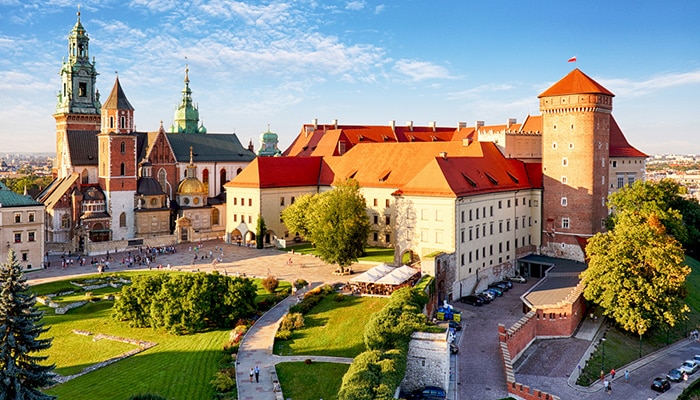 The trip from the buzzing capital of Poland to the culture-brimming city of Krakow is one that countless travelers and commuters make every year. It promises to whisk you from a city of skyscrapers and rattling trams to an ancient Old Town that's a listed UNESCO World Heritage Site, flaunting Gothic spires and the mighty Wawel Castle.
Tempted? Well, the good news is that the journey can be completed in just a couple of hours. It might mean covering 245km of Central Europe going south-west through the country, but there are trains, planes and buses to help you do it.
Warsaw to Krakow by high-speed train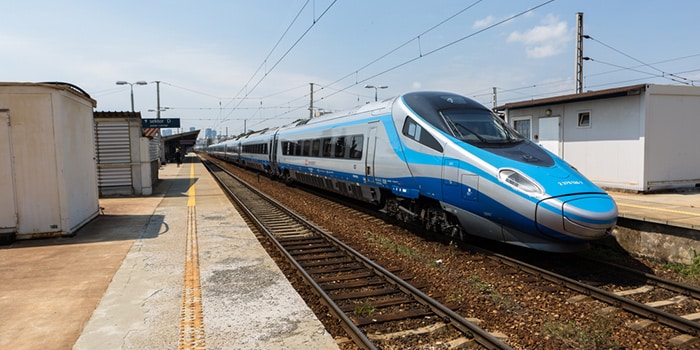 Time – 2h10
Price – $12+
Comfort – 5/5
Poland upgraded its national railway network back in 2014 to allow for high-speed trains that can hit 200 kph. They've been whisking passengers from the capital of Warsaw down to the immersive city of Krakow ever since. These days, we'd still say they should be your first port of call for making the journey, because they're comfy and fast – average station-to-station times are just 2h10. The most convenient station for leaving from downtown Warsaw is the colossal Warszawa Centralna, which was also fully refurbished in 2012.
New Pendolino trains can help you smash the trip to Krakow's castle-topped cityscape in a little over two hours.
All services are operated by Polish national railways (PKP). They are run on nifty-looking Pendolino trains with a stretched nose and a light-blue livery. It's compulsory to reserve these fast options in advance and prices are variable, so it's important to head over to 12Go.co and get booking as soon as you know your travel dates. You're basically searching for tickets on any of the Express InterCity Premium (EIP) lines, which start at about 49 PLN ($12) per person.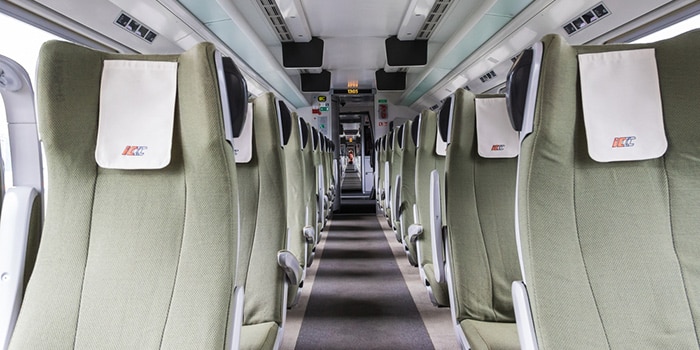 The route follows the mainline south-west through central and southern Poland. In the summer, you'll get to see swathes of rolling farm fields and pockets of woodland drifting far into the horizon. In the winter, there's often plumes of snow covering the landscapes. As you get closer to Krakow, things become a little hillier. It's generally entertaining but hardly spectacular scenery. Still, there's WiFi and a dinner cart to keep you going throughout the trip.
Warsaw to Krakow by normal train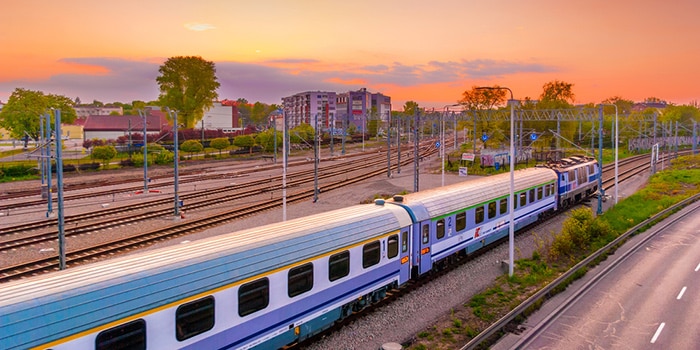 Time – 2.5-4.5 hours
Price – $10
Comfort – 4/5
There are also standard, non-high-speed connections from Warsaw to Krakow. They'll be run on either the InterCity (IC) or the older LKR trains. We'd recommend sticking to the first only. They cost the same as the others but are far superior, offering air-conditioned carriages that have a mix of open-plan seating and private three-three compartments. Fares for the ICs rarely vary too much, but using 12Go.co to book prior to arriving in the Polish capital will still help you dodge the inevitable queues at the station.
It's also important to use 12Go.co beforehand to check that you're booking onto one of the better normal-speed connections. This category of train can take anything from 2.5 to 4.5 hours to complete the trip. It all depends on where it's scheduled to stop along the way. The arrival point for all IC trains is the main Kraków Główny railway station, which is about 10 minutes' walking from the very heart of the enchanting Old Town district.
Warsaw to Krakow by bus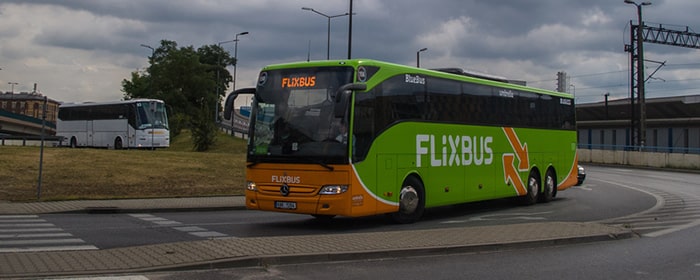 Time – 4h25+
Price – $5
Comfort – 3/5
Before the faster trains became an option, most backpackers and locals would look to buses to move from Warsaw to Krakow. They are still a reliable and regular contender, with departures from the capital almost every hour during the day. But it's on price that these really shine. You'll save lots of zloties for your beers in the underground bars of Krakow and tours of the famous Wieliczka Salt Mines by throwing in with coaches, because tickets start at a wallet-friendly $5 each. Tempted? Look out for the popular links operated by Flixbus, which leave from the Warszawa Zachodnia station on the western side of the city.
The trip does take a lot longer than on the train, mind you. It's about 4.5 hours on average. That's largely down to the slow progress of motorway building in Poland. A lot of the highways between these two major cities remain an unwidened single lane in each direction, and there are notorious issues with entering Krakow during peak travel hours in the morning and the late afternoon (expect delays of up to an hour).
Warsaw to Krakow by plane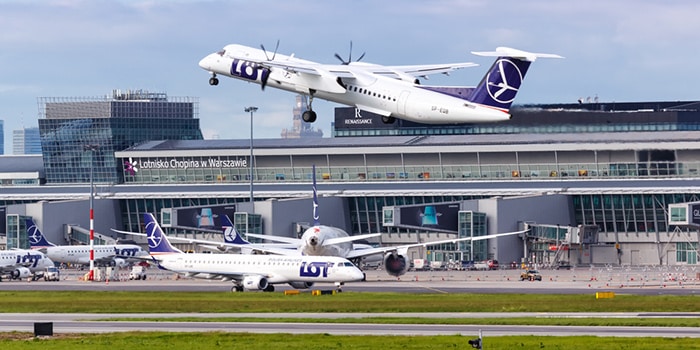 Time – 55 minutes (flight only)
Price – $25+
Comfort – 4/5
Polish LOT airlines offer up to six flights per day between the capital and the southern city of Krakow. They're a speedy and comfortable way to go from one town to the other, taking a mere 55 minutes in the air before touchdown. That translates into a total travel time in the region of 3.5 or 4.5 hours, once you've added in transfers to the terminals and check-in and all the other stuff that comes with flying these days.
The flight from Warsaw to Krakow will be back on solid Polish ground after only 55 minutes in the sky.
All departures start at the big Warsaw Chopin Airport (WAW). It's really easy to reach from the downtown of Warsaw. Just hop on either bus 188 or bus 175 and ride them right to the end of the line. It takes 25 minutes and tickets are a mere 5 PLN ($1). In Krakow, you'll touch tarmac at the fancy new John Paul II Kraków-Balice International Airport. It's located to the west of the city itself but is now linked to the main train station by railway. Hop on in the airport and you'll be stepping out at Kraków Główny 20 minutes later, and only 12 PLN ($2.80) lighter.
Flight prices can go up and go down, but they're usually available in advance for about $25 per person, each way. Of course, that's for the most basic fare, which won't include any checked bags, seat selection or sports equipment. To get perks like that, you could consider an upgrade to a standard ticket, which is typically around $16 extra.
Warsaw to Krakow by car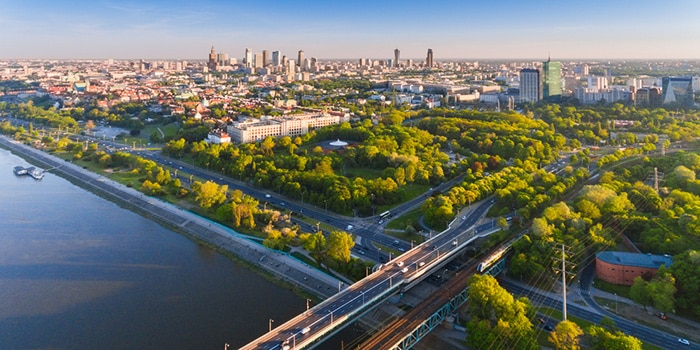 Time – 3.25 hours+
Price – $40-50 per day
Comfort – 4/5
Car hires can be good deals in this part of Europe. You're looking at about $100 for two full days' driving when you book in advance using RentalCars.com, with a little extra fee for going in one direction from Warsaw to Krakow. That means you might want to think about hitting the road and doing the journey in your own time. It promises to open up a corner of the continent that's not often visited but has plenty to offer…
A detour to the rejuvenated industrial town of Łódź (pronounced wuch) might be in order. It's got cafes in old factories and a vibrant nightlife. In the other direction is the fun-loving college city of Lublin, with a Baroque centre and a rich Jewish heritage. For nature lovers, the Ojcow National Park on the way into Krakow can't be missed, where hiking paths meander through huge bluffs of stone and babbling rivers.
---
Warsaw boasts a buzzy, city vibe, with striking skyscrapers and sprawling shopping malls. Krakow is Poland's cultural hub, with museums and UNESCO sites aplenty. We think you should experience both, which is why this guide has all the know-how on getting from one to the other.
---
Warsaw to Krakow FAQ
What is the cheapest way to get from Warsaw to Krakow?
Buses have always represented the most wallet-friendly choice on the road from Warsaw to Krakow. They'll get you south slowly, but for as little as $5 per person. That should leave more in the budget for your frothy Slavic beers in the cool bars of Krakow's bohemian Kazimierz district!
What is the fastest way to get from Warsaw to Krakow?
High-speed Pendolino trains can zoom from capital to second city in just over two hours. That's as fast as you can hope for on this line, especially considering that driving yourself would take well over three hours from end to end. Bear in mind you'll need to pre-book seats on the high-speed trains in Poland. 12Go.co can help with that.
What is the best way to go from Warsaw to Krakow?
Most of the locals will go straight for the high-speed trains. They are the fastest route to Krakow from Warsaw, and the most comfortable. You'll need to be ready to reserve a seat prior to your holiday, though, because tickets scored via 12Go.co in advance tend to cost far less than those booked at the last minute.
How much is a train ticket from Warsaw to Krakow?
The high-speed trains that take just two hours to get to Krakow are the most expensive. They cost about 49 PLN ($12) when booked well in advance of your travels using 12Go.co. Slower connections are on offer on Polish regional trains, but they are still priced at around the $9-12 mark for most trips.
How long is the train ride from Warsaw to Krakow?
Catch the Pendolino high-speed service that can push the speedometer to 200 kph and you can go from Warsaw to Krakow in just 2h10. Alternatively, there are the IC and LKR lines, which could take anything from 2.5 hours to 4.5 hours.
What is there to see between Krakow and Warsaw?
The rural regions between Warsaw and Krakow are some of the less trodden in Poland. For the most part, they are all rolling farm fields, but there are a few highlights. The cities of Lodz and Lublin are good examples, offering intriguing old town areas and upcoming bar scenes. The country's smallest national park – Ojcow – also lies en route, with its club-like cliffs and dense forests.
How useful was this post?
Click on a star to rate it!
Average rating / 5. Vote count: