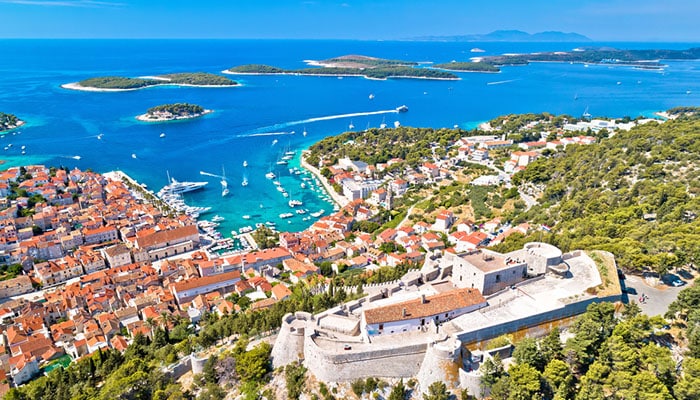 After you've wondered at the Byzantine churches and UNESCO-tagged Roman temples of old Split, be sure to turn your attention to the gorgeous Dalmatian Islands. The most popular among them has to be Hvar. It's the sunniest spot in Croatia, boasting one of the nightlife hubs of the Adriatic Sea and a backcountry of ancient farms and fragrant lavender fields. What's not to like?
Crossing the 20 miles of sea between Split and Hvar is simple during the spring, summer, and autumn months when regular ferries and taxi boats go from morning until night. Let's take a closer look at all those…
Split to Hvar by High-speed Ferry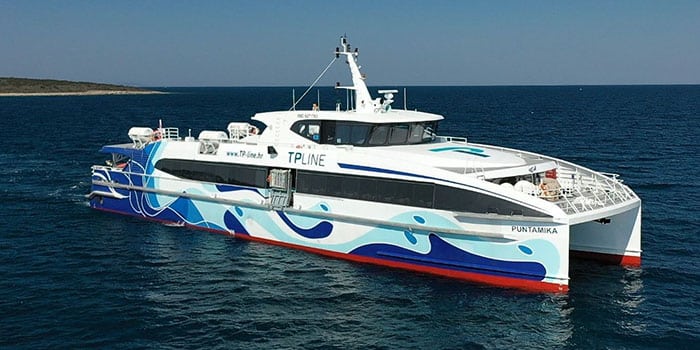 Time – 55 minutes
Price – $22
Comfort – 4/5
The fastest way to swap the Roman ruins of Split for the glistening pebble coves and lavender fields of Hvar is to take the high-speed ferry. These are run by just one company: TP Line. They take under an hour – around 55 minutes – to go from port to port, usually leaving up to four times per day. Though the frequency of services depends on the season (there are more in the summer, fewer in spring and autumn, and none throughout the winter).
The fast ferries are the only mode of transport listed here that can take you from Split Ferry Port to the harbor in Hvar Town in under an hour.
TP Line operates a fleet of fast catamaran ferries with a single large indoor deck space. Provided the weather isn't too bad, they are comfy enough. The onboard seating is arranged in rows of three or four. The whole space boasts air conditioning, dedicated toilets for passengers, and even small refreshment bars that sell non-alcoholic beverages and basic snacks. Perhaps the major downside is that these boats can be affected by storms in the Adriatic. They can be a bit wobbly if there are big swells, and might even be canceled at the last moment if the weather's really bad.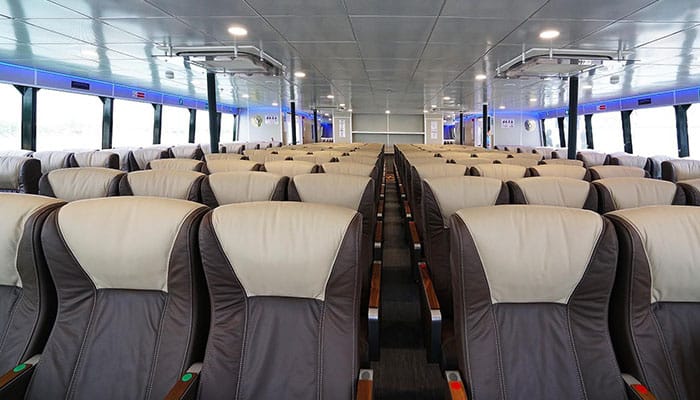 That's rarely a problem in the still, shimmering Croatian seas throughout midsummer, though. More likely to be an issue is the rush for tickets over to Hvar when the peak vacation months hit southern Europe. That's why we usually recommend pre-booking tickets on this route at least 90 days prior to travel, especially if you want to go anytime between June and August. Expect to pay a standard $22 per person, each way.
Split to Hvar by Normal Ferry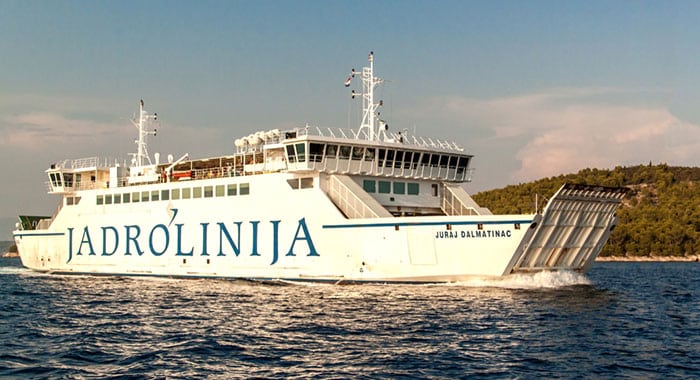 Time – 1h05
Price – $20
Comfort – 4/5
Jadrolinija runs another, ever-so-slightly-slower ferry service that goes between Split and Hvar a few times per day. There are usually two departures in the morning. The first leaves Split Ferry Port at 9.30am. The second leaves at 11.30am. A total journey time of 65 minutes means arrivals at 10.35am and 12.35pm respectively. Both get you onto the marble flagstones of the docks in Hvar Town in time for a lunch of oysters and champagne in one of the glitzy bars that dot the quays. During the summer months, there are extra departures later in the afternoon and even in the evening.
But why would you ever take the Jadrolinija ferries when there's a faster option on the menu? A few reasons, most of them connected to the type of boat you travel on. Jadrolinija operates much larger, ship-style ferries that hold way more passengers than the smaller catamarans run by TP Line. The extra capacity means these are less likely to sell out for travel in the peak summer months between June and August. 
Don't discount the slower ferries just because they're slower – on the plus side, they're cheaper, roomier, and more reliable in bad weather.
A bigger sized boat also means you get more space to relax on board. There are both indoor and outdoor decks on the Jadrolinija vessels. The former are air-conditioned and even come with refreshment kiosks where you can purchase drinks and snacks. The latter is perfect for feeling the salty Adriatic breeze on your face and watching the isles of Brac and Solta roll by. Finally, large boats aren't so susceptible to cancellations and whatnot in adverse weather conditions, so you might find that these are the only public boats running if there's been a storm in the region.
Jadrolinija asks that all passengers make it to the port at least 30 minutes prior to boarding. They also impose a 20kg limit on luggage per person. We'd recommend pre-booking your ride online before you even arrive in Croatia using 12Go. That way, you'll have an e-ticket handy when you arrive at the loading point – no queues, no waiting around.
Split to Hvar by Taxi Boat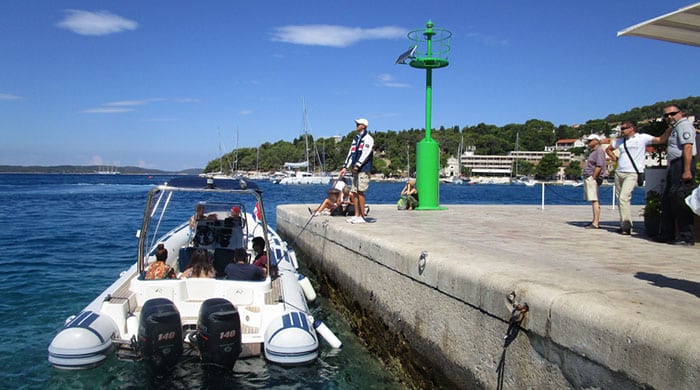 Time – 1h05
Price – $560+
Comfort – 5/5
The nigh-on ridiculous price tag for a taxi boat over to Hvar from Split means that 99% of travelers will stick to the public ferry services. But if there's been a recent lottery win in the family, you might want to consider this deluxe transfer option. It will set you back nearly $600 but means an on-demand ride across the Adriatic at your beck and call. Trips can be booked to include a collection at Split Airport or the main Split Ferry Port. Most will terminate at the vibrant harbor in Hvar Town, but you can also arrange for a drop-off at other docks in Hvar – just be sure to query that before you reserve.
You'll be traveling on a small but very speedy vessel. They're usually little more than a high-speed skiff or RIB boat, capable of seating 4-6 passengers plus a pilot. Travel times are about the same as the ferries but the trip promises to be an experience in itself, seeing you whizz at velocity across the sparkling sea waters between the sun-splashed Dalmatian Islands. It's the option to go for if you want to feel like an A-lister! Taxi boats can now be booked online for both summer and winter seasons using 12Go.
---
Thousands of travelers hop from the mainland city of Split to the good-time island of Hvar each year. The vast majority come in the warmer season that runs from May to September, to swim in azure coves, cycle the pine-studded backcountry, and party the night away in Hvar Town, the hedonistic hub of the Dalmatian archipelago.
If you're looking to join them, there are three options: High-speed ferries, slow ferries, and private boat taxis.
---
How useful was this post?
Click on a star to rate it!
Average rating / 5. Vote count: