Travel to Reykjavik, a city surrounded by incredible landscapes
Geographically, Iceland is one of the youngest countries in the world but its largest city and capital, Reykjavik, has been around since 874 AD with its first permanent Norse settlement. Now it's considered one of the safest, greenest and cleanest cities in the world. The city doesn't have a McDonalds Restaurant (something that the locals are quite proud of!) but it has so much, much more. So much in fact that deciding what to do when you visit Reykjavik can take some forethought and research.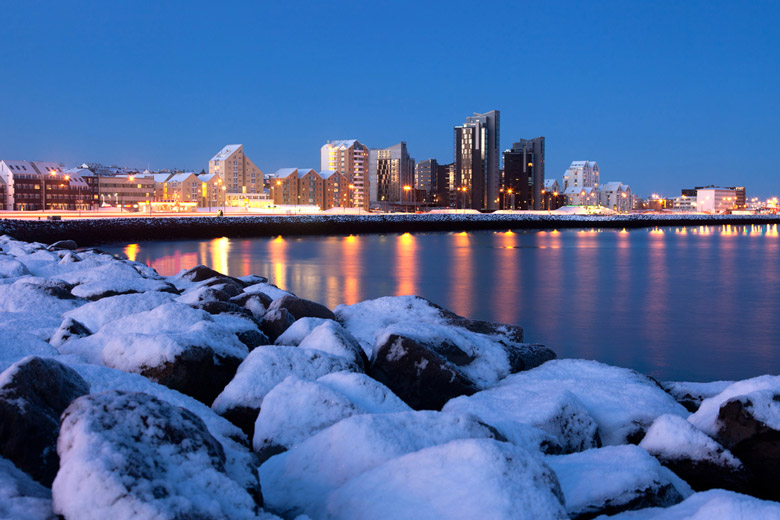 Travelers to Reykjavik appreciate that it has the restaurants, shopping, nightlife and activities of a cultured city while still having wide open spaces, mountains, and unspoiled nature within minutes of town. This isn't to say that the city is extreme, isolated or over the top. It's just the right mix of city and nature, small and at same time cosmopolitan. The people of Reykjavik take their heritage and arts seriously and so museums like the Arbaer Open Air Museum and the National Museum of Iceland are exemplary examples at demonstrating to everyone their culture from its earliest beginnings to modern times. A perfect balance of hip and heritage can be found on Laugavegur, a diverse and interesting shopping area with a mixture of high-end Icelandic items and designers, and traditional family-owned stores that have been around for close to 100 years.
One of the area's most valued resources is its thermal pools. They can be visited year round and offer relaxation at its perfection. There are many different pools such as Nautholsvik Geothermal Beach, Laugardalur Park and Reykadalur Hot Springs. Each offers a chance to sit and converse with locals. These pools not only are a must when you visit Reykjavik, they're vital to the locals as well. Around 85% of homes are powered by geothermal energy. For some time Reykjavik has been using geothermal energy to keep the city and its people warm by drawing up hot water from natural springs and heating houses as early as 1930. Today an electricity network harnesses 750 MW of thermal power from steam, and a hot water distribution system generating 60 million cubic meters of hot water.
Don't let the season determine when the best time to visit Reykjavik is. Just like their thermal pools, many of Reykjavik's attractions are open all year round. It truly is a city for all seasons. During the summer the sun shines for 22 hours a day. Whale watching for many types of whales, including Humpback, Orca, Blue, Minke and Sperm whales is done April through October. Many whale-watching tours depart from Reykjavik, and visitors can also take sea-angling cruises to catch their own fresh fish from the cool waters. Festivals happen throughout the year starting with January's Dark Music Days – a favorite for world music aficionados – and ending with a Christmas celebration that happens all of December.
Reykjavik is a city that welcomes tourists. The locals are hospitable and want to share their interesting city, history and bounty with visitors. It's no colder than New England and if the wind does blow it's a terrific excuse to purchase a hand-knitted sweater made with wool from Iceland's sheep. So there's no excuses not to visit Reykjavik!