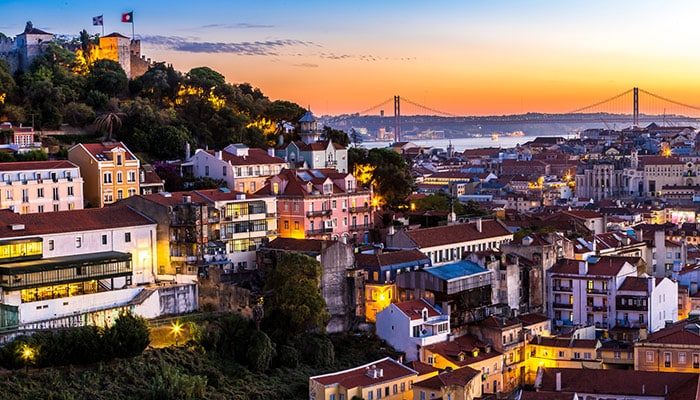 Straddling seven hills above the Tagus estuary, Portugal's fun-loving capital remains one of the top city break destinations on the continent. It's easy to see why. There's fantastic seafood straight from the Atlantic. There are enchanting medieval sights like the Moorish São Jorge Castle. There are neighbourhoods of winding lanes and sardine-sizzling cantinas. Topping it off is a vibrant nightlife scene that involves sunset beers on the beach and wild dive bars in the Bairro Alto. And then there are the day trips out to the surf spots of Peniche and Cascais – super fun!
These days, a whole load of travelers heading Lisbon way choose an Airbnb rental over a traditional hotel. Why? For starters, there's myriad options across the capital, from stylish penthouses in the midst of the old Alfama neighbourhood to cheap and cheerful flats in outer suburbs. They're also easy to book; all online and remote. And you can score some hefty discounts if you're willing to hang around for a week or more. Tempted? Read on…
In this Airbnb guide to Lisbon: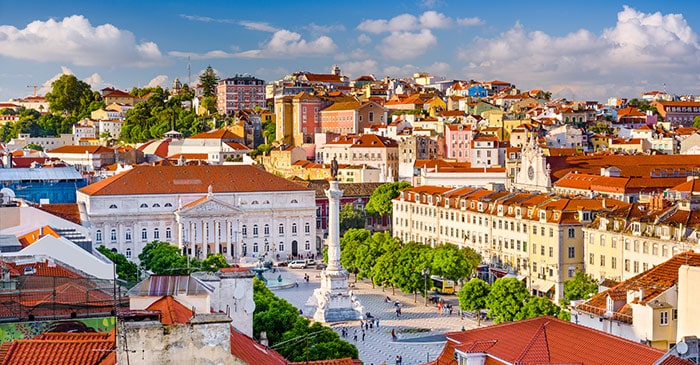 Is Airbnb legal in Lisbon?
It sure is. Airbnb is totally legal and operates as normal across the Portuguese capital. There have been some restrictions on allowing new short-term rentals in particularly popular districts, but that's only because there's already an overload of choice in those areas. You'll also find that hosts need to display their registration number on their Airbnb page. As a traveler, you're free to browse, book, and travel using the service in Lisbon to your heart's content. So, will it be a surf shack in Cascais or a riverside boathouse down on the Tagus?
Where should I stay in Lisbon Airbnb?
Lisbon is a city of many facets. At just the switch of a street, it's possible to move from an atmospheric Moorish castle in the Alfama (1) to the vintage coffeeshops of Baixa (2) or the raucous evening bars of the Bairro Alto (3). Hiding between those are areas like spice-scented Mouraria (4) (great if you love Indian food) and LGBTQ-friendly Príncipe Real (5). Escaping beyond the core is also a possibility, thanks to the proximity of the beaches and casinos of cool Cascais (6).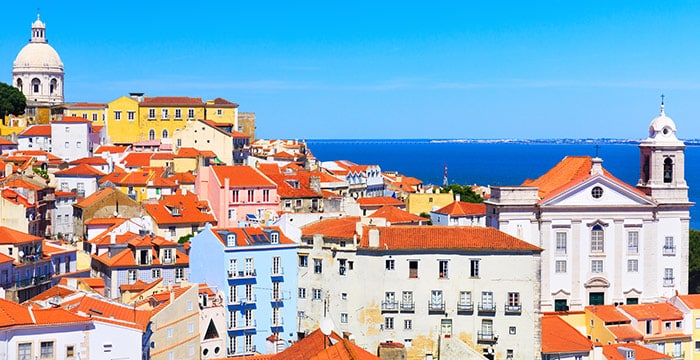 Alfama
Pros
Photogenic area
Loads of authentic atmosphere
Great cafés
Close to the main historic sights
Cons
Can be pretty expensive
Not many spacious properties
The Alfama gets super busy in summer
Rolling down a steep hillside between the ancient Moorish castle and the banks of the Tagus, Alfama is the oldest corner of the capital. It shows, too, what with wiggling, winding alleys running this way and that, zigzagging up and down, through staircases, archways, and tiny plazas. The whole area is awash with tile-fronted houses that lean over the streets. Sardine kitchens and cafés are stuffed into virtually every corner, so there's always somewhere to tickle the taste buds. Airbnbs here tend to be compact, but offer a stay in arguably the town's most atmospheric spot.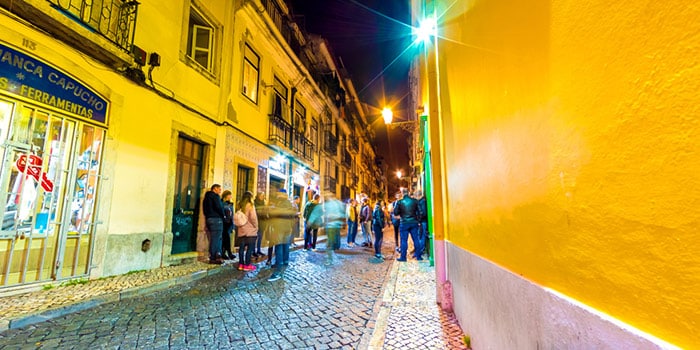 Bairro Alto
Pros
Lisbon's nightlife district
Pretty streets with Romantic architecture
Great Airbnbs in boutique hotels
Cons
Busy and loud
Everything's on a hill!
If you're looking for nightlife, endless bars, and some of the best eating in the city, the Bairro Alto is for you. Laid out on a medieval grid plan, it's a maze of crisscrossing streets that slope upwards. The buildings are largely built in the Romantic style, with filigreed balconies, frescoed tile frontages and glowing yellow and pink colour schemes. But it's the gastronomy and hedonism that Bairro is really known for. Everything from Irish pubs to elegant cocktail bars come packed between the blocks.
Baixa
Pros
There's a real buzz about this area
Excellent shopping
Super centrally located
Cons
Busy during peak shopping times
Can be pricy
Baixa is the modern heart of Lisbon. It's anchored on the stunning Praça do Comércio, where mighty equestrian statues but up to Baroque triumphal arches and the sloshing waters of the Tagus. Behind that is a mix of wide boulevards, which together host perhaps the best array of high-street shopping in the city. Other highlights of the Baixa include the gorgeous and vintage bookshop at Livraria Bertrand and the always-bustling square of Praça Dom Pedro IV.